Last Updated on November 14, 2022
There is no denying that mountain bikes are expensive.
But how expensive can mountain bikes get?
Mountain bike companies use state-of-the-art technologies and materials like carbon to create stronger and lighter bikes. But better design and construction come at a cost because this made bikes very expensive. Some can even reach $15,000 to even $20,000!
It surely sounds absurd to have a bike that is more expensive than a motorcycle or car. But that's what it is, and they will stay that way. This happens because of many factors, such as marketing, production process, and materials and technologies.
Here we'll show you some of the most expensive mountain bikes. We'll also tell you what the most expensive mountain bike is.
Why are Mountain Bikes Becoming Very Expensive?
Mountain bikes have become very expensive today because of many factors. From currency fluctuations, manufacturing, labor, and even materials used! With each has a key role in the prices of mountain bikes today.
Currency fluctuations
The manufacturing process of mountain bikes is one of the primary reasons prices are soaring. Global currencies have regularly fluctuated because of the trade war between the US and China. These two countries are the biggest producers of mountain bikes.
Local distributors will then have to buy mountain bikes and their components at a higher price. This made them sell bikes for a more expensive retail price compared to what they sell years ago.
Labor and shipping costs
Most companies manufacture their mountain bikes in China and Taiwan. Workers are also usually paid below minimum wage to lessen production costs.
But there has been a growing plight from laborers to increase their labor wage because of the increasing costs of living. This resulted in higher production costs, which then made bikes more expensive.
Increasing costs to manufacture and deliver bikes to local shops also made it difficult to sell them at lower prices.
Related: How Much Does It Cost To Ship A Mountain Bike
Materials used
One of the major reasons mountain bikes have become expensive is because of the materials used on newer models.
Carbon has become all the rage today. Most bikers now prefer carbon bikes over aluminum ones because they're lighter and stronger. That's even if carbon bikes are more expensive than their aluminum counterparts!
Carbon bikes are more expensive because it takes more time to manufacture them. The manufacturing process is also more complicated compared to aluminum bikes.
But carbon isn't only used on frames alone, as they are also being used on components. This then results in higher bike prices.
New technology
New technology helps bikes function more smoothly. But this has also created high-end components with high prices.
Take, for example, Fox Shox, which recently released its all-new Fox 38 priced at $1,200. This comes with multiple suspension adjustments and extra features unheard of before. SRAM has also gone wireless with their $1,000 AXS Eagle drivetrain.
What About E-Mountain Bikes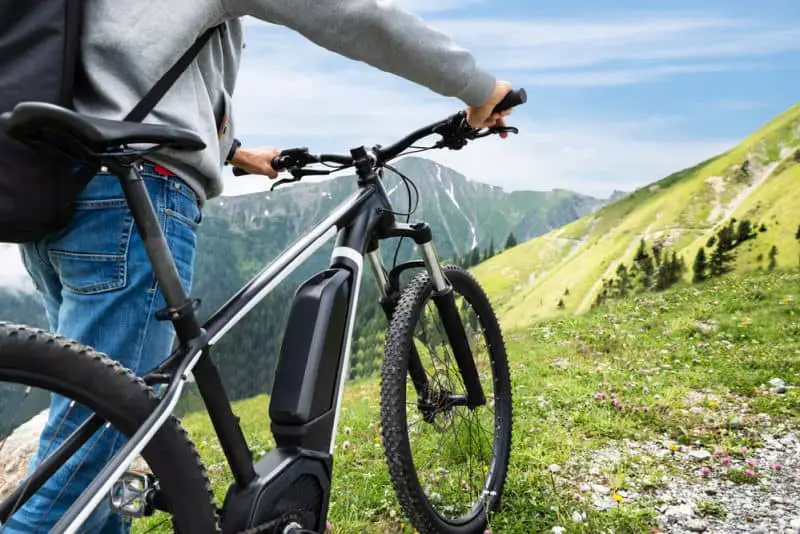 E-Mountain bikes are one of the most recent innovations in the mountain bike world. It's a mountain bike that has a battery installed in it. This powers an electric pedal-assist motor to make steep climbs feel like flat pavement.
It still acts like a mountain bike. But the added motor, battery, and control panel increase the bike's price to a couple thousand dollars more.
Getting an e-bike and equipping it with carbon components and electronic shifters is like buying a brand-new car.
Top 5 Most Expensive Mountain Bikes
It's best to show you the most expensive mountain bikes available in 2020. This helps you know how expensive mountain bikes can get.
Take note, though, that the prices can still increase when you upgrade their parts. But we'll be focusing on stock product offerings for now.
Yeti SB165 T-Series X01 AXS ZIPP – $15,990
Yeti creates high-end performance mountain bikes. And there's lots of proof of how good their bikes are just by watching their riders win the EWS.
Their Yeti SB165 T-Series has the best parts available, such as the SRAM X01 AXS ZIPP model. It also has the all-new Fox 38 fork and Fox transfer dropper.
Pivot Switchblade Team XX1 AXS – $12,399
The Pivot Switchblade Team XX1 AXS has some of the most high-tech components in the market. Its carbon frame runs SRAM AXS on the drivetrain and dropper and Fox Shox on the forks and shock. It's very clear why this one's very expensive!
Santa Cruz Megatower CC XX1 AXS RSV – $10,599
First on our list is the new Santa Cruz Megatower CC XX1 AXS RSV. It's fully equipped with all-carbon components from the frame, wheels, and cockpit.
It has the SRAM XX1 AXS wireless drivetrain, which adds more bling to the bike. There are also Fox suspensions on the fork and shock for increased performance. This makes gnarly and technical trails feel like pavement.
Pivot Mach 4 SL XTR Team Live Valve – $10,399
Pivot gained the second spot with the Mach 4 SL XTR. This is a high-performance full-sus cross-country bike that has 100 mm of travel.
It is even considered one of the best ones in the market. It's equipped with Shimano's XTR Di2 group set and Fox Live Valve suspension that automatically changes settings based on where you're riding.
Specialized S-Works Enduro – $8,820
Specialized has dropped off their latest enduro bike named the S-works Enduro. They removed their alloy and 27.5 models to focus on 29-inch all-carbon frames.
This has the new Shimano XTR and Fox suspensions. You can add a hefty $1,200 for a RockShox Reverb AXS dropper.
Related: How Much Should I Spend on a Decent Mountain Bike?
What is the Most Expensive Mountain Bike
Specialized Levo SL Founder's Edition – $16,525
E-mountain bikes are downright expensive because of their pedal-assist motors. A good example of this is the Specialized Levo SL Founders Edition. It has a price of a whopping $16,525! This makes it the most expensive mountain bike in the world.
What makes this bike so expensive is there are only 250 of them produced around the world. Its very expensive price boils down to three main factors:
It is a limited-edition bike
It is an e-bike
It has the latest top-tier components
The SRAM AXS XX1 and Fox Shox are part of the e-mountain bike. And the bike only weighs less than 17kg, which is very light for an e-mountain bike. You can also customize it to your preferred components and paint job.
But take note that there are other expensive customized mountain bikes not available to the public.
Conclusion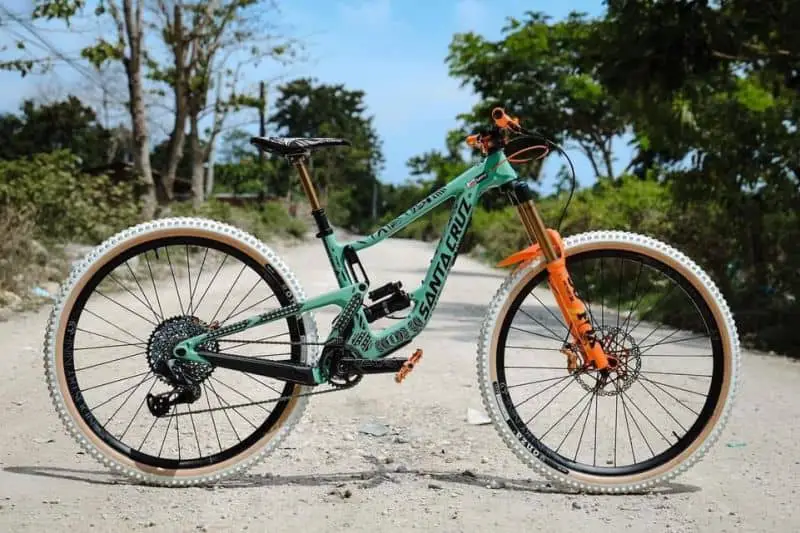 It might surprise you how much these bikes cost. Most might even think that it's crazy to buy a bike that costs as expensive as a car.
But getting a bike like this isn't a waste because it deserves a high price. First off, it's made with carbon, a very light and robust material. These bikes also have state-of-the-art electronic and wireless components.
Not only are these bikes made for "bragging rights," but they can also improve your performance. That's if you've got the skills or want to learn!
There's no doubt you'll enjoy these mountain bikes, no matter if they drill a hole in your pockets.