Last Updated on March 8, 2021
Mountain biking isn't just about having a bike, riding it, and enjoying nature.
You also need to be good at it. One good way to be a good biker is by practice. And getting lots of it! You can do this by learning how to build a mountain bike skills course.
This gives you a place solely dedicated to improving your riding skills in the best and most efficient way possible. Note that it's difficult to train on easy or unpredictable trails. But you don't have to worry about any of those when you have your own bike course.
That's what this article is about.
Because here, we'll be teaching you how to build a mountain bike skills course for you to become a better biker.
Mountain Bike Skills to Improve
Mountain bike skills are divided into categories. These are beginner, intermediate, and advanced. These let you build a course that matches your current skills so you don't risk crashing and getting injured.
Beginner
Beginner skills are the fundamental skills that every mountain biker needs. These include:
Reading the trail
Proper weight distribution
Efficient pedaling
Skills such as these are what most beginner mountain bikers lack. So, it's necessary to build a mellow skills course to let new riders learn these skills.
Intermediate
You'll find it easier to go through harder trails once you're already comfortable on your bike. The common intermediate skills you'll learn are:
Cornering
Lifting your front wheel
Hitting technical climbs
Riding through drops
You can then safely pass through any obstacles once you can do these skills. You can even maneuver through hard turns and berms.
Advanced
Advanced skills are for experienced mountain bikers. These guys want to gain more skills, so they can do anything on their bike. These skills are:
Bunny hop
Riding steep descents
Riding through skinnies
Hitting large drops and jumps
Note that it's unnecessary for you to learn some of these skills. They're more inclined towards the fun side instead of being a necessity. But they are still important because they can increase your confidence when riding tough trails.
Building Your Own Skills Course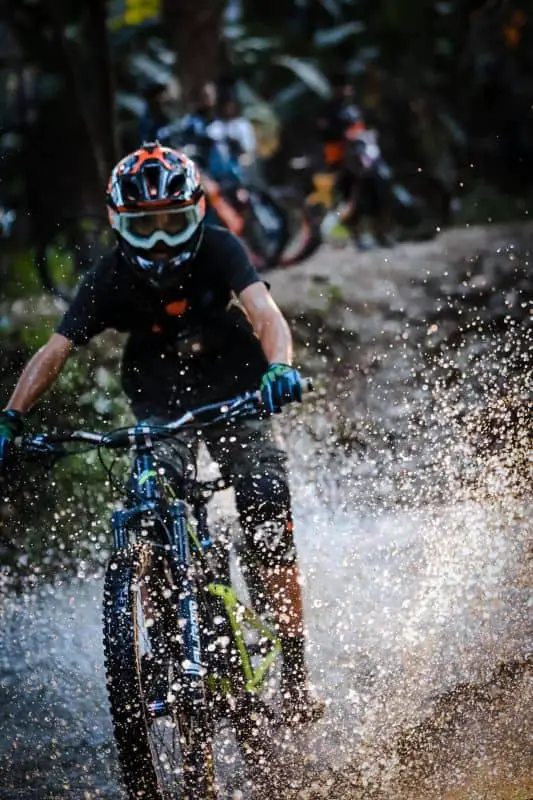 Find a suitable location
Build a mountain bike skills course on privately owned land to prevent legal issues. A good example of this is at a local bike park. You can then create a proposal letter for the landowner.
This is a good way to gain their approval because it shows you are serious about building one. It would also be a marvelous idea to create a skills course on your own land. But that's if you have one!
Plan your course
Plan out the features you'll have in your skills course. Know what kind of course you want to make and what skill level it accommodates to. Also, inspect the terrain to see the coverage. This will save a lot of time and help you avoid reconstructing features later.
You can also seek the help of an expert track builder or a veteran mountain biker. These guys have lots of experience tucked in their sleeves. So, they'll know what you should have and should not have on your course.
Set the path of your course
Walk around the area and assess how you can create the best suitable path. Also, trace how you can go through obstacles such as large roots and rocks. Use a lot of natural features available on the trail to get the best results.
Mark the designated routes with tapelines or flags once you've planned out the trail's coverage. This lets you know where you should build.
You can use the full area by creating multiple turns if you're working on flat terrain. You can even loop the course into multiple laps to make the most out of it.
Clear up the path
Walk through the course and clear away rocks, branches, and foliage you come across. This makes it easier for you to work on the soil later on. It will also help you build the track quicker.
You can throw away the unnecessary debris to the side of the track. Or you can pile them up in a wheelbarrow and throw them somewhere far.
Smooth the track
Smooth out the track once you've cleared it up. Use a rake or mattock to loosen the grass-filled topsoil. Then bring them to the sides to reveal the loose soil. Flatten out the soil using a shovel to smoothen out the track.
Make sure to fully pack the soil to prevent your wheels from slipping because of loose dirt.
Create obstacles in the skills course
Finish your course by adding different obstacles. These can help you improve certain mountain bike skills. You can add jumps, drops, berms, and north shores. Just make sure that you can go through these obstacles without crashing or getting injured.
Riding flow trails is also important in mountain biking. You can master this by building obstacles where you can learn to transition your ride from one section to another.
Maintenance and Improvements
All that's left to do once you've completed your mountain bike course is to maintain it. Do maintenance chores at least once a week to prevent it from deteriorating. It's best to dedicate a full day of maintenance work.
You can always add a few small upgrades to the obstacles to increase their difficulty. That's if you already find the skills course too easy. Build bigger drops and jumps and make the terrain more technical by adding rocks and boulders.
Conclusion
Building your own mountain bike skills course is going to take a lot of great hard work. But it's worth it! It helps improve your mountain bike skills and makes you less prone to injuries. Not to mention that you'll have loads of more fun on your back when riding your bike.
Learning how to build a mountain bike skills course is an important skill to learn for bikers. Just follow our tips, and you'll be building your own dream skills course in no time.