Last Updated on July 25, 2022
Building your own mountain bike and customizing it down to the most intricate of details is one of the most satisfying things you can experience as a rider.
But there are several factors to know before you can build your own mountain bike from scratch. You should know the parts and tools you need, the type of bike, and the size of the wheels and frame.
We will help you with just that as we'll help you build your dream bike from start to finish.
So, how to build a mountain bike from scratch?
Type of Bike You're Building
You need to know what kind of mountain bike you're planning to build before buying bike parts. Each discipline requires you to purchase specific parts like long-travel suspension for downhill and enduro bikes. Or lighter components for cross-country bikes.
Do a bit of research to help you understand the parts you should buy to get the perfect build.
Parts You Need to Build a Mountain Bike
Frame and headset
You're going to choose between a hardtail or full-suspension frame. Get one that fits your height and size.
Do this by checking in with the manufacturer on what frame size you should get before purchasing it. You can also check out the frame size chart usually found on the bike brand's website.
Suspension
You need to both have a fork and rear shock if you're running a full-suspension bike. Meanwhile, riding a hardtail will only need you to have a fork.
The amount of travel of your suspension fork depends on the terrain you're riding in. You should get a short-travel fork if you're more focused on cross-country riding. Go with longer travel forks if you're more focused on hitting big jumps and fast descents.
Group set
Buying a group set allows you to save more in getting the important components of a mountain bike.
A group set usually comprises:
Crank
Bottom bracket
Cogs
Derailleurs
Shifter
Chain
Some group sets will also include the brakes and hubs but it'll cost more.
Wheel set
A wheel set comprises:
You can save a lot more when buying them as a whole. Although some prefer to get them individually so that they can customize them with their preferred parts.
Brake set
A brake set comprises the brake levers, hydraulic hose, and brake calipers. But you need to buy the rotors and brakes separately. Also, take note that you need to get high-end brakes if you're more focused on downhill.
The size of your rotors also matters. We prefer 200 mm rotors for the front and rear for downhill bikes. Meanwhile, a 200 mm front rotor and a 180 mm rear rotor is for enduro bikes. Then there are the cross-country bikes that have 120 mm to 160 mm rotors.
Cockpit
The cockpit is where most of your body gets in contact with the bike.
It comprises:
Handlebar
Stem
Seatpost
Saddle
You can buy each of them separately. It's also important to get the right size of each of these components to make yourself comfortable when riding your bike. It's also best to purchase a dropper seat post so you won't have to get off your bike to adjust its length.
Pedals
The pedals are where you will put your feet on your bike. So, get one that can securely lock your foot in place. You can also try going clipless if you really want your feet to stay in place.
Tools You Need
You also need to have the tools to avoid technical issues when during or before and after the ride.
These are the tools you need:
Allen keys
Pedal levers
Bike grease
Tire pump
Shock pump
Philips flat and crosshead screwdriver
Needle-nose pliers
Cable cutters
Dedicated bottom bracket and sprocket tool
You should also get a torque wrench to properly tighten the bolts of your parts, especially if you're using carbon components. This prevents you from over tightening your bike parts, which can break or damage them.
Assembling Your Bike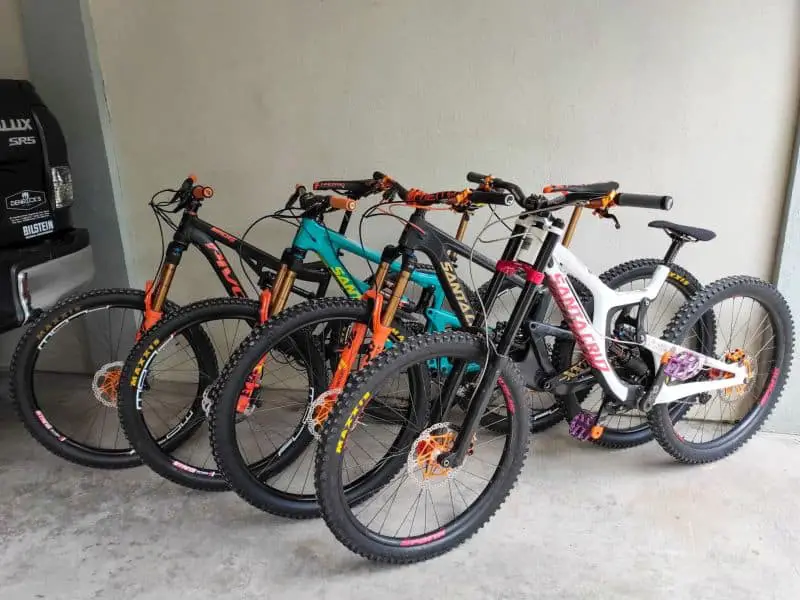 Step 1: Assembly
Start with your frame by installing the headset. This lets you put in the fork, stem, handlebars, and the rest of the cockpit on the frame later. Add grease in between metal surfaces.
You then need to assemble the wheel set and put the cogs into the rear hub using the sprocket tool. Install the brake rotors onto both hubs using an Allen wrench.
Step 2: Putting everything on the frame
Individually attach the remaining components to the frame. Start with the cockpit where you'll place the shifters, brakes, and grips. Make sure that the brake and shifter cables are housed on the frame so your bike remains clean.
Then move down to the drivetrain side to install the crank set using a dedicated bottom bracket tool and an Allen wrench. Install the derailleurs into their corresponding front and rear attachments and connect them to the shifter cables.
Place the front and rear wheels into the frame set. This gives you a platform where you can attach the chain into the drivetrain of your bike. Properly measure the chain and cut it into the correct length.
Step 3: Tuning everything
Fine-tune your bike once all components have been attached to it. This ensures that your bike runs smoothly.
Align the brake pads so that the sides won't touch the brake rotors. You also want to tune your derailleurs so it shifts properly. Afterward, put the proper air pressure on your suspension to get the right amount of sag.
You also need to put your wheels in their corresponding tire pressure, which is usually around 30 to 40 PSI.
Related: Is It Hard To Assemble a Bike?
Is it Cheaper to Build a Bike by Yourself?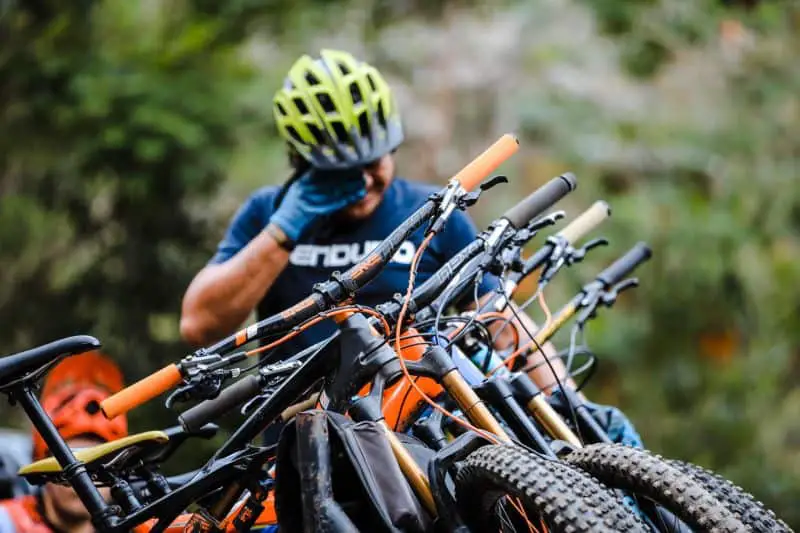 You can save a lot of money if you assemble the bike yourself. But it still depends on the parts you'll install on your mountain bike. Are you going for the high-end ones? Or maybe just settle for the budget choices.
You can buy built and affordable mountain bike parts online, especially if you're planning on getting second-hand ones. Though it's always best to invest in more expensive parts due to how long-lasting they are and how they're much safer and more fun to ride with.
Conclusion
Building a mountain bike from scratch is a satisfying feat because it gives you the control you need to feel at ease and in sync with your bike.
With the help of the tips in this article, there's no doubt you will add miles of enjoyable trail rides with your bike.
Just make sure to always check the parts, ride safe, and give your mountain bike some time and TLC.
If you don't want to build a mountain bike yourself, buy one! Here's something you should read:
Best Mountain Bike Under 300 USD
The Parts of a Mountain Bike Explained
Is It Cheaper to Build Your Own Bike