Last Updated on June 17, 2021
Bikes are a sophisticated piece of machine because they are made of different parts. This is the reason many just choose to buy a built-bike from the nearest department store.
There's nothing wrong with that. But you miss the opportunity of bike customization. You can't get the parts you want. And you risk safety because you don't know how the bike was assembled.
But is it hard to assemble a bike?
That's what we'll talk about in this article. We'll also show you the top reasons to assemble a bike. As well as the things you need to prepare before assembling one.
Is it hard to assemble a bike?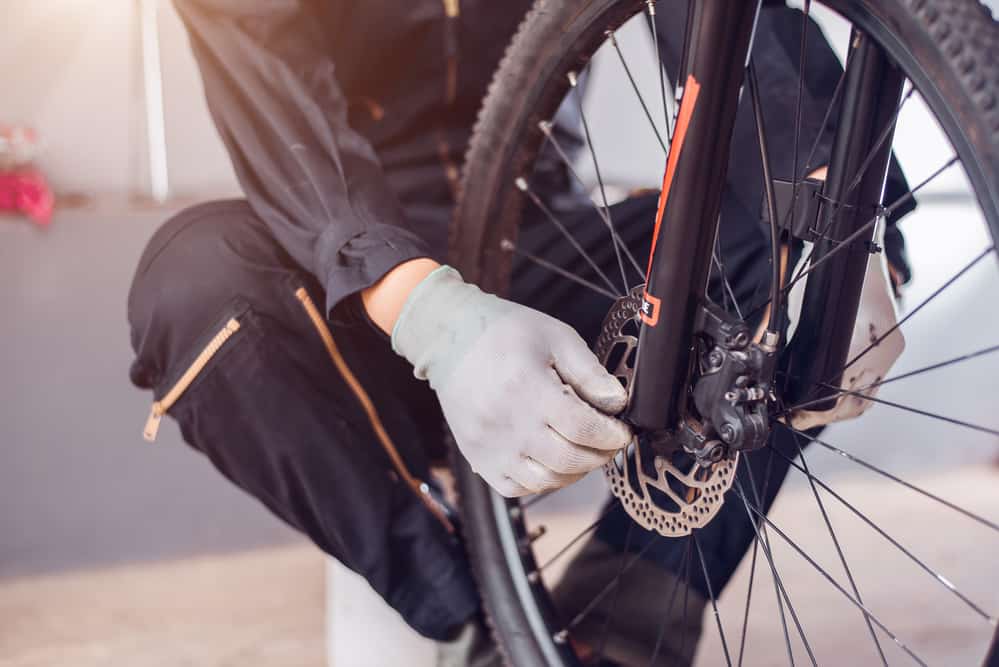 Assembling a bike is hard. But it gets easier through time. It's just like any other thing that you do. It's hard at first, but it becomes easier once you get used to it.
You also have to consider many things such as the parts used and tools needed. The right position, placement, and angle must also be considered ensuring safety and comfort.
Expect that it'll be confusing at first. But you can avoid this by looking at the big picture. Organize the parts and arrange them in order. Don't just pile them up in one location.
Do things one step at a time and don't rush things out. It's alright if you take hours to finish the assembly.
The average time to finish building a bike is 3 to 5 hours. Sometimes even more! Patience is key to proper assembly. Remember that the bike is a moving two-wheeled vehicle. So, it needs to be built properly!
Things to Consider When Assembling a Bike
Tools
The first thing you need to consider is the tools. You can't assemble a bike if you don't have the tools. The common ones to use are hex Allen keys, torque wrench, tire pump, shock pump, tire pump, and grease.
Don't just get any tool. Choose from a reputable brand like Park Tool. You might find it expensive. But that's how things are priced in the bike world! We also recommend you choose the top brands like the aforementioned to ensure durability.
You surely don't want to use cheap tools on an expensive bike, right? Not only will this damage the bike. But there's also a high chance you'll get injured because it isn't built right.
Workplace
Another important thing to consider is the workplace. Work in an area free from distractions. The place should be spacious enough, so you can freely move. You need lots of space so you can move around and do the proper adjustments on the bike.
You should also place the parts in different places, so they don't get piled up. The workplace should be safe.
The floor shouldn't be slippery, so you don't hurt yourself if you slip. Also, put your devices and other electronic appliances as far from the workplace as possible. You don't want to accidentally hit them with sharp and solid objects from your bike.
Proper lighting is key to a well-built bike. Have as much lighting as possible, so you can see what you're working on. Ensure proper ventilation as well, so you'll be comfortable working on your bike.
Safety
Use proper working gloves during bike assembly. This protects your hand from pointed parts and greasy elements. Make sure that the floor is dry and isn't slippery. And keep all sharp objects at bay. We also recommend you wear proper working goggles to ensure utmost safety.
Skills
Bike assembly needs a lot of skills. You just can't assemble a bike if you don't have proper training or knowledge. Learn from experienced mechanics and follow their tips. Chances are that you'll start from scratch and work your way up until you get the perfect tuning.
There are many ways you can learn bike assembly aside from an actual mechanic from your local bike shop. YouTube has a ton of bike assembly tutorial videos you can follow. There are also bike troubleshooting tips out there in case you get your ride in some trouble.
Passion
Passion is an overlooked aspect in bike assembly. You'll just get easily tired and stressed if bikes aren't your passion. You need to be very interested in bicycles, so you can assemble them properly.
Some find bike assembly boring because you deal with technical matters. Well, it's boring if you're not that into it! But if you love what you do. Then there's no doubt you'll be better and faster in no time.
What are the tools needed to assemble a bike?
Allen hex keys
Torque wrench
Bike grease
Carbon assembly paste
Tire pump
Shock pump
Soft cloth linen
Related: What Mountain Bike Tools Do I Need
Step-by-step Guide on How to Assemble a Bike
Step 1
The first thing you want to do is to unbox the bike. Put the box in an upright position and slowly open its top flaps. Gently lift the bike along with the front wheel and handlebar. Then remove any protective film. Slowly place the bike flat on the floor. It would also be better if you put a soft mat or rug on the floor.
Step 2
Unpack the seat post and make sure that the saddle is properly attached on top of it. Put a smear of grease around the seat post. Then slowly insert the seat post on the frame's seat tube. Adjust the clump and tighten it to your preference.
Check if the seat post clamp bolt is tightened at the rear. Also, use a torque wrench to ensure that the bolts are tightened properly. They shouldn't be too tight or too loose.
Step 3
Attach the handlebar to the stem and remove the place at the stem's front area. This is the piece that connects the handlebar to the stem.
Then slowly insert the handlebar into the stem and tighten each of the bolts. We recommend you use a torque wrench to tighten them.
And set the torque setting to 5 Nm to 7 Nm, depending on your preference. Then straighten the stem and line it up with the front tire. Evenly clamp each of the bolts.
Step 4
Insert the front wheel into the fork that's attached to the head tube of the frame. First, remove the thru-axle from the fork.
Then slowly slide the front wheel into the center portion of the fork. Make sure that it's in the right position and the brake rotors are on the left side. Put the thru-axle into the hollow part of the fork once the wheel is locked in place.
Step 5
Inflate the tires based on your riding preferences. We recommend you follow a tire pressure of 20 PSI at the front and 25 PSI at the rear if you ride downhill trails. You can then go higher to 25 PSI to 28 PSI if you have an enduro bike.
Meanwhile, a higher tire pressure of 30 to 40 PSI is needed if you ride cross-country trails. But this still depends on your riding style and the weather. Lower PSI is preferred if the trails are wet, so you can get a good grip. You can then go for higher PSI if you prefer speed to grip.
Step 6
Put grease on the threads of the pedal. Install the pedals and connect them to the crank bottom bracket. We recommend you use a pedal spanner or Allen hex key. Then set the saddle height.
There is no recommended saddle height because this depends on your height. But make sure that your legs are at a straight angle when pedaling down. Adjust it higher if your legs are still bent.
Step 7
Do a last check on your bike and make sure all the parts are properly connected. Start at the top and check the cockpit, saddle, and drivetrain.
You can then go lower and ensure the suspension is well set. Do a sag test and put the sag at 30% and 20% for the fork and rear shock, respectively. Then do a ride test as you pedal your bike and hit small jumps.
Conclusion
Many ask, "Is it hard to assemble a bike?"
Frankly , it is not. But everything is relative, and it depends on your attitude and level of interest. If you're very passionate, have lots of skills and experience, and have the right tools, then it's easy to assemble a bike.
Is it hard to assemble a bike?
Nope.
Just follow the tips we've mentioned, get a good coach mechanic, and throw in some passion and love for biking. You'll be assembling your dream bike in no time if you do.
Other resources: