Last Updated on July 29, 2023
Mountain bikes are meant for the mountains. Thus, the name!
But many use these on paved roads. We can't blame them, though. They want to make the most of their bikes and use them in different places!
But is riding a mountain bike on pavement a good idea? Or does it damage your bike and ruin the fun of mountain biking?
Those are the things we'll talk about in this article. We'll also talk about the pros and cons of riding mountain bikes on roads. As well as provide some tips so you can enjoy your bike more.
Mountain bikes can be ridden on pavement, but they are not designed for it and may not perform as well as road bikes.
Adapting a mountain bike for pavement riding may require tire pressure, suspension, and gearing adjustments.
When riding a mountain bike on pavement, it is important to prioritize safety and be aware of the bike's limitations.
Can you ride a mountain bike on the road?
Of course, you can! Mountain bikes are all-terrain bicycles that can run in different places, on pavement, or off roads.
They designed mountain bikes for downhill and uphill inclines because these are normal for mountains. They also have an upright geometry, making it awkward to use them on roads.
Nonetheless, a growing number of cyclists use mountain bikes for road biking. They don't have to worry if some potholes or bumps throw them off their road bikes with thin mountain bike tires. They can also go anywhere because their bikes can traverse any terrain.
Advantages of Riding a Mountain Bike on the Road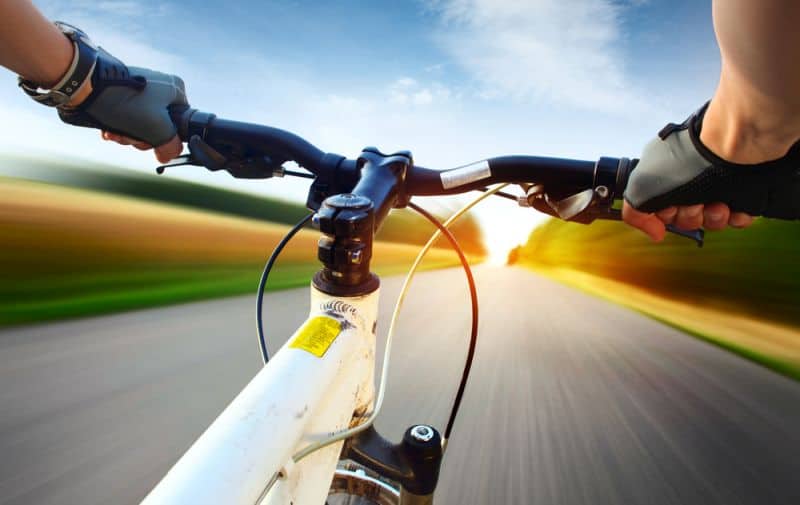 Comfort
Mountain bikes are designed to cover rocks, roots, and uneven surfaces on paved roads. You don't absorb all the vibrations from the ground because your bike does it all for you.
There are two main types of mountain bikes:
Hardtail mountain bikes
Full-suspension mountain bikes
Hardtail mountain bikes don't have any suspension at the back. These are common in less aggressive cross-country bikes. They're also lighter and go faster on paved roads.
Meanwhile, full-suspension bikes are your best bet if you prioritize comfort over anything else. Full-sus bikes have two suspension systems: one at the front (fork) and the other at the back (rear shock). Just remember that these are heavier and less maneuverable.
Capability
Mountain bikes can traverse trails you think aren't impassable. They can even go through small streams if you have the skills.
You don't have to worry about paved roads having potholes or slight bumps when riding a mountain bike. If it can take much beating on the gnarliest of trails, everything obstacle paved roads can throw at you would be a cakewalk for mountain bikes.
This means that you can do anything you like to it when road-riding. You can even jump off entire stairways on your mountain bike and land safely. Just make sure you have downhill skills and experience.
Safety
Mountain bikes absorb vibrations from the ground. This means your ride will be less shaky, and you're less likely to lose balance.
Just make sure that the tire pressure is hard. We recommend you put around 35 to 45 PSI on both tires if you ride on pavement. This provides traction and ensures you won't slide off because of the soft mountain bike tires. There's also a lower chance of punctures because of the firm sidewalls.
Cons of Riding Mountain Bikes on Pavement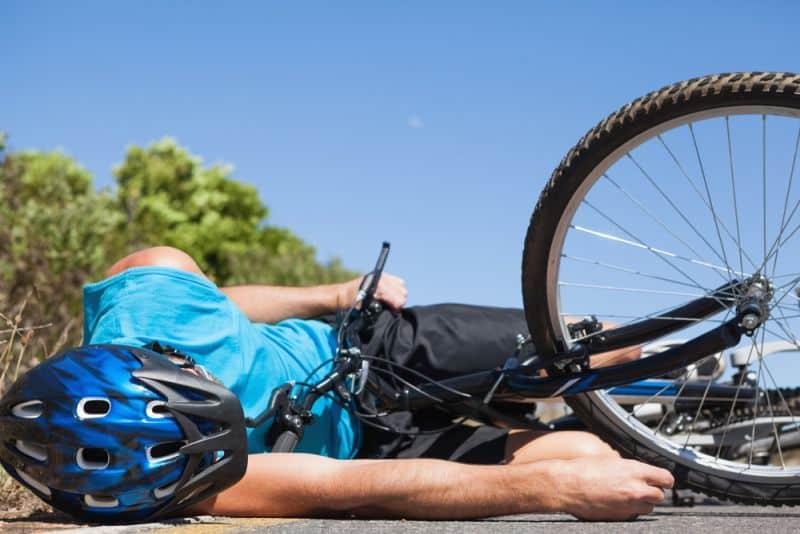 Weight
Mountain bikes have bulky frames. They are designed to handle stress from off-road trails, so they are solid. This is why they need to be heavier and broader than road bikes.
The average weight of a cross-country bike (XC) is 8 to 10 kg.
Meanwhile, enduro and trail bikes are 11 to 15 kgs.
Downhill bikes are the heaviest because they weigh around 16 kgs to 20 kgs or even more! Compare that to the very light 3 to 6 kgs. The average weight of road bikes.
Speed
Expect to reach a maximum of 30 to 45 KPH when riding a mountain bike on roads. This is much lower compared to road bikes' 50 to even 70 KPH speed limit!
Maneuverability
Mountain bikes have wide handlebars that are 700 to 800 mm wide. This is much wider than road bikes' 300 mm to 500 mm width. Narrower handlebars are more responsive than wider ones because you can make turns much easier.
Also, the tip of your handlebar might hit street posts or moving vehicles if you ride them on the streets. So, practice extra caution when riding a mountain bike on paved roads.
Fun factor
While you can use a mountain bike on the road, remember that the trails are the natural habitat for mountain bikes. Also, all you get are dust and smoke on the road as moving vehicles hurl past you in 3 to 5-inch gaps. That's no fun at all!
How to Make the Most Out of Your Mountain Bike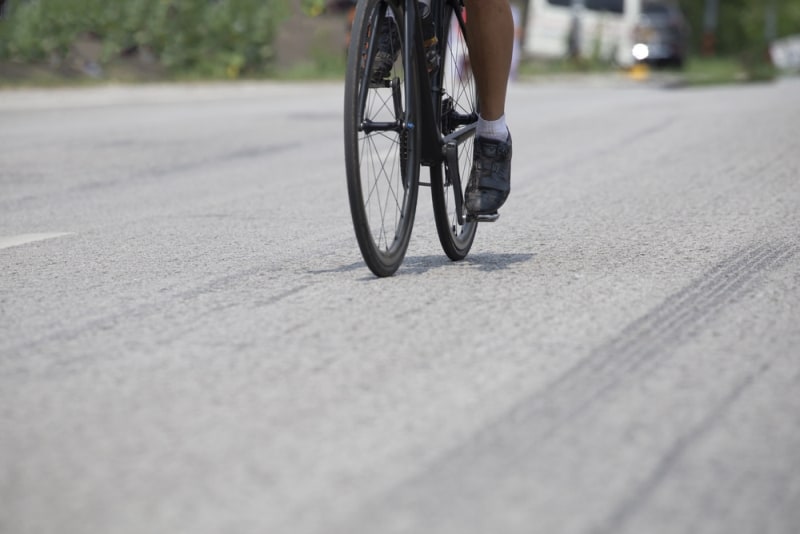 Ride in the trails
As mentioned, they are designed to take a lot of beating from the gnarliest trails. Hit some jumps and drops and shred through the nearest local trail. Your bike will surely be happy, and thank you if they can talk!
Riding it on the trails can also relax your mind and improve your breathing because you only breathe clean air.
Learn new skills
Mountain biking isn't just about cycling and pedaling. It's also about balance and coordination. Learn how to jump your bike or hit drops on your local trail. You should also know how to ride through technical sections, no matter how gnarly they get.
Conquer your fear
Mountain bikers will tell you that this isn't for the faint-hearted. Be brave enough to ride through steep trail sections. You might crash or hit some trees. Or maybe get a scratch on your elbows and knees. It might hurt, but that's part of the challenge a mountain bike trail presents!
Get a nice bike!
Mountain bike riding is downright expensive, but the price is worth it. Nothing beats the feeling of going down Enduro trails in full hype. Or climbing hills with a breathtaking view. Nukeproof, Santa Cruz, Specialized, and Norco are some of the top mountain bike brands you can choose from.
Suggested mountain bikes for road and trails
Image
Title
Price
Prime
Buy

Top

Mongoose Status 2.2 Mens and Womens Mountain Bike, 26-Inch Wheels, 21-Speed Shifters, Aluminum Frame, Front Suspension,a Black/Red

Prime

Eligible

Add to Cart

Top

Schwinn S29 Mens Mountain Bike, 29-Inch Wheels, 18-Inch/Medium Aluminum Frame, Dual-Suspension, Mechanical Disc Brakes, Matte Black

Prime

Eligible

Add to Cart

Top

Schwinn Traxion Mountain Bike, Full Dual Suspension, 29-Inch Wheels , Blue/grey

Prime

Eligible

Add to Cart

Top

Hiland 26/27.5 Inch Mountain Bike Aluminum Frame 24 Speed Dual Disc with Lock-Out Suspension Fork for Woman

Prime

Eligible

Add to Cart

Top

Schwinn High Timber Youth/Adult Mountain Bike, Steel Frame, 29-Inch Wheels, 21-Speed, Blue

Prime

Eligible

Add to Cart

Top

Royce Union RHT Lightweight Aluminum Men's Mountain Bike (Wine)

Prime

Eligible

Add to Cart
Product prices and availability are accurate as of the date/time indicated and are subject to change. Any price and availability information displayed on [relevant Amazon Site(s), as applicable] at the time of purchase will apply to the purchase of this product.
Prices pulled from the Amazon Product Advertising API on:
Frequently Asked Questions
What are the advantages of using a hybrid bike for pavement riding?
Hybrid bikes like the Schwinn GTX Elite Comfort provide the comfort of a mountain bike and the speed of a road bike. Like mountain bikes, they have wider tires, making riding on different terrains more stable and comfortable. They also have a more upright riding position, which reduces strain on your back and neck.
What are some recommended Trek bikes for pavement riding?
Trek bikes like Schwinn High Timber ALX offer various bikes suitable for pavement riding, including the Domane, Emonda, and Madone road bikes and the Dual Sport and Verve hybrid bikes.
What are the best road tires for a 29er mountain bike to ride on pavement?
Choosing road tires compatible with your bike's rims is vital if you plan to ride a 29er mountain bike on pavement. Some recommended options include the Bell Flat Defense, Continental Gatorskin, Schwalbe Marathon, and Michelin Pro4 Endurance tires. These tires are designed for speed and durability on smooth pavement.
Does riding a mountain bike on pavement cause the tires to wear out faster?
Yes. The knobs on the tires can wear down more quickly on smooth surfaces, reducing traction and increasing the risk of slipping or sliding.
Are hardtail mountain bikes good for pavement?
Yes. They are lighter and go faster on paved roads, and you don't get a lot of bobs which helps you maintain momentum. But ensure to get good tires for maximum performance.
Conclusion
Riding a mountain bike on the pavement is very common, especially since it's the most practical thing. They are more fun and convenient on mountain bike trails in the long run. But they are comfortable and safe enough that you can travel with them everywhere, especially on the roads.
Related: