Last Updated on November 2, 2023
Are you worried about your weight and whether or not it will prohibit you from mountain biking? You're not alone! 
Many people are concerned about this issue, but the truth is that most top mountain bikes can handle a rider who is a bit heavier than average. In fact, the average mountain bike is designed to accommodate riders who weigh up to 250 pounds.
This article will discuss the real answer to the weight requirement in mountain bikes, as well as other factors such as the components you should consider if you are a bit overweight and the best MTBs for heavy riders.
That way, you can feel confident in your ability to get out there and start riding!
Weight Requirements for MTBs
Mountain biking is a great way to get some exercise and fresh air to enjoy the outdoors. But while average-sized riders may never consider it, the ones on the heavier side often wonder if they are too big to ride a mountain bike. 
Riders who are conscious of their weight tend to ask, "do MTBs have weight limits?" The straight answer to that question is YES.
Unlike a road bike, every mountain bike has a weight requirement, and if you go over this limit, there's a high chance that the bike will succumb to breakage. So, what is the average weight requirement for a standard or electric mountain bike?
Since it's designed for off-road cycling, electric mountain bikes and standard MTBs are tough and tend to have a higher weight requirement than typical road bikes or hybrid bike. 
Generally, a typical mountain bike found at your local bike shop has a weight range of between 275 to 300 lbs. However, there are also specially-designed MTBs for heavy riders, with weight requirements of up to 550 lbs!
Weight Limit for Each Bike Type
There are different types of mountaing bikes, and each type has its own weight limit. The best way to find out the weight limit for your bike is to check the manufacturer's website or the bike's owner's manual. That being said, here are the weight limits for the most popular types of mountain bikes:
Hardtail Mountain Bikes: The average weight limit for hardtail mountain bikes is 275 to 300 pounds.
Full-Suspension Mountain Bikes: The average weight limit for full-suspension mountain bikes is 325 to 350 pounds.
Fat Tire Mountain Bikes: The average weight limit for fat tire mountain bikes is 350 to 375 pounds.
Electric Mountain Bikes: The average weight limit for electric mountain bikes is 400 to 425 pounds.
Components to Consider for Heavy Riders
Not all bikes are created equal. If you're on the heavier side, you'll want to make sure you choose a mountain bike designed to accommodate your weight.
There are a few different bike features you'll want to consider when choosing a mountain bike. Here are four components that you'll need to consider:
Bike Frame
Recent technological breakthroughs in the biking space have introduced exotic materials like carbon and titanium into bike frame manufacturing. However, despite all of these integrations, steel remains the king of the mountain regarding strength-to-weight ratio. 
For this reason, a steel frame is often the best choice for a heavy rider. Choosing a frame specifically designed for heavy bike riders is essential, as these will be reinforced in critical areas to prevent breakage.
Wheel
Tire pressure is one of the important factors in MTBs, regardless of weight. But if you're a heavy rider, you'll need to be careful to maintain the correct tire pressure. 
Underinflated tires are one of the leading causes of flat tires, especially for heavier riders. That's because the weight of a heavy rider puts more pressure on the tires, which can cause them to lose air more quickly.
When it comes to pressure, low tire pressure gives you more control, while higher tire pressure gives you more speed. MTBs require a much lower psi at 25 to 30, although the right MTB tire pressure depends on various factors.
Aside from pressure, your weight can impact the quality of your wheels moving forward, especially if you hit potholes by accident. In this case, always true your bike wheels to maintain their alignment.
Heavier individuals will need to try out a few different psi rangers to find the sweet spot for their weight, terrain, and riding style. They can also try out other bike varieties, such as a fat bike.
Fat tire bikes also exist, and they tend to look like oversized or wide tires, typically featuring 29-inch wheels and wider rims.
A fat tire mountain bike is made specifically for fat bike varieties designed for low ground pressure to allow easy riding on unstable terrains such as sand, snow, mud, and bogs.
In addition, there are also suspension mountain bikes made with fat tires that have full suspension. This makes for a much smoother ride, as the rear shock of the suspension mountain bike rear shock will help absorb some of the impacts from bumps in the trail.
A full-suspension bike is meant to take on more challenging terrain like a fat tire bike. Fat and suspension bikes also offer a comfortable ride across various mountain trails without the rider having to worry about their body weight.
The Spokes
Keep in mind that spokes and rims can break easily under the pressure of a heavy rider. Fortunately, the solution is simple: get thicker and wider rims.
For heavy riders, it's best to opt for a 36-spoke wheel. Regarding material, go for stainless steel as it's the strongest option.
Upgrading your wheel is the quickest way to increase the overall stability of your bike. That's why the wheels should be a top priority if you're planning to upgrade or buy a new mountain bike.
Are you on a budget and can only upgrade one wheel at a time? Then, prioritize the rear wheel first, as it bears the brunt of your body weight and experiences the most wear and tear.
The Seat
A comfortable mountain bike seat is essential for all riders – but it's essential for heavy riders.
A heavier individual will put more pressure on the seat, which can cause discomfort and even pain after extended periods. For this reason, choosing a seat specifically designed for heavy riders is essential.
These seats will be wider and have more padding to provide support and cushioning for a heavier individual. 
Best Mountain Bikes for Heavy Riders
If you think most bikes are made for the average size, think again! As mentioned before, there are MTBs that are made specifically for heavier individuals.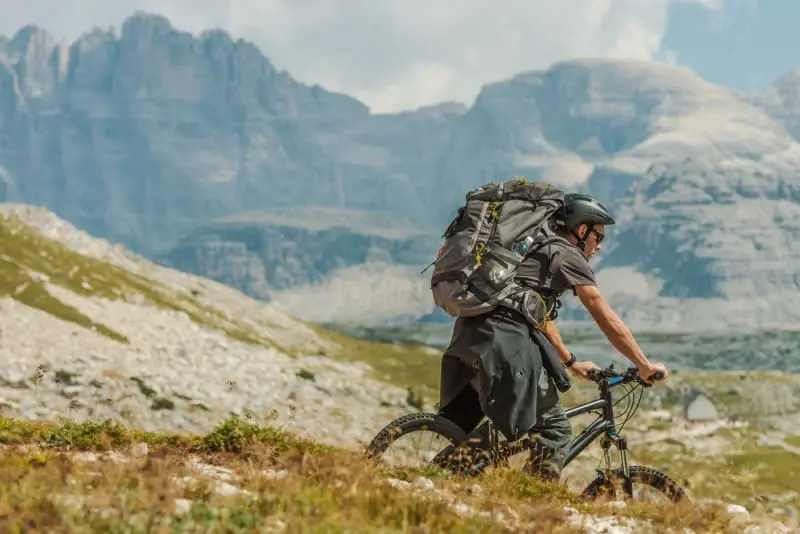 You don't have to lose weight to enjoy a bike ride! These bikes are customized specifically for big and tall guys, and they consider all the different factors discussed in this article.
 If you're looking for a suitable bike that can accommodate your weight, here are five of the best mountain bike options on the market:
Zize Bikes A New Leaf 2.0
Zize Bikes is a company that specializes in making bikes for heavy riders. The New Leaf 2.0 is their flagship mountain bike, designed specifically for people weighing more than 550 lbs. 
This bike has a custom Chromoly steel frame, forged alloy shaft, and double bolted seat posts. In addition, the pedals are made with a Chromoly spindle and forged alloy platform for maximum durability.
The magnesium alloy wheels include 36 stainless steel spokes and alloy rims. The tire also has lots of volume and traction to provide a comfortable and stable ride.
Zize Bikes 29ers Max 2.0
Coming in second, under the same company that looks after the heavy riders, we have the 29ers Max 2.0. This bike has a weight requirement of up to 400 lbs, which is perfect for people between the sizes of XL and XXL and up to 7 feet tall! 
The spokes are reinforced, professional-grade stainless steel to complement the wide forged alloy platform pedals and Chromoly spindles. These features make this bike perfect for riding under any weather condition.
The 29ers Max 2.0 also features large, flat-resistant, fat-tire wheels (about an inch bigger than professional bike wheels) with a high thread count. In addition, the inner tubes are sealed with slime sealant that helps prevent punctures up to 1/8 inch.
Diamondback Overdrive 29er
Diamondback bikes are well-known for their quality and convenience. Overdrive 29er is Diamondback's take on an affordable budget bike for heavy bike riders that doesn't cut corners on quality.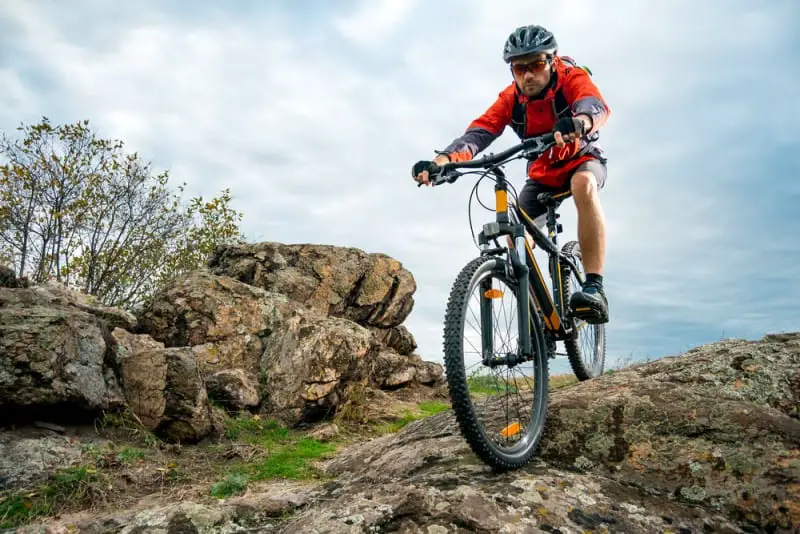 This bike has a weight requirement of up to 300 lbs, which is the perfect range for people on the cusp of XL and XXL. The hardtail bike frame is made from 6061-T aluminum alloy, which is both lightweight and durable. The front fork is made from steel to absorb any bumps in the road.
 This affordable bike also has an SR Suntour suspension fork, which provides superb comfort during long bike rides. In addition, the Shimano Altus 24-speed drivetrain is perfect for any terrain, and the bike comes with mechanical disc brakes for quick stopping power.
Cannondale Trail 5
The Cannondale Trail 5 is another budget bike for heavy riders. This bike has a weight requirement of up to 300 lbs, which is great for people with a weight range of L and XL.
Despite being cheaper, the Cannondale Trail 5 is a testament that you don't need to purchase an expensive bike to enjoy a quality ride. The frame is made from double-welded 6061 aluminum alloy same to other fat bike, electric bike, and folding bike brands, which is both lightweight and durable. 
The Shimano Altus 27-speed drivetrain provides a wide range of gears, perfect for multiple terrains. Cannondale also includes hydraulic disc brakes, which are more powerful and require less maintenance than traditional mechanical disc brakes and rear disc brakes.
REI Co-op Cycles DRT 1.2
Last but certainly not least is the REI Co-op Cycles DRT 1.2. With a weight requirement of up to 300 lbs, this mountain bike is perfect for people between the sizes of L and XL.
The frame is made from lightweight aluminum alloy, similar to the lightest bikes you can find on the market. This makes it easier to maneuver on any terrain. The bike also has an SR Suntour rear suspension fork, providing a smooth ride on even the roughest roads.
The Shimano Altus 3×7 drivetrain provides a wide range of gears for power speed and precision whether you're riding uphill or down. The Cannondale Trail 5 also sports the Shimano Tourney rear derailleur for precise gear changes.
Best Overall Mountain Bike for Heavy Riders: Mongoos Dolomite Fat Tire Mountain Bike
Prices pulled from the Amazon Product Advertising API on:
Product prices and availability are accurate as of the date/time indicated and are subject to change. Any price and availability information displayed on [relevant Amazon Site(s), as applicable] at the time of purchase will apply to the purchase of this product.
While there are many options available on the market, the overall best mountain bike for heavy riders is the Mongoos Dolomite Fat Tire Mountain Bike. This fat tire bike is specifically designed for heavy riders who weight above 300 pounds.
The frame is made from lightweight aluminum steel, which makes it easy to handle on any terrain. The bike also has a SR Suntour suspension fork, which provides a smooth ride even on the roughest of roads
The main highlight of the Mongoose Dolomite Fat Tire Mountain Bike is its supersized all-terrain knobby tires. These tires provide great traction, stability, and control even in the most challenging conditions.
If you ever find yourself climbing in steep hills, the read derailleur comes with seven speed to make pedaling easier. The bike also has disk brakes that offer great stopping power in all weather conditions.
Overall, the Mongoose Dolomite Fat Tire Mountain Bike is the best mountain bike for heavy riders because it is specifically designed to accommodate their needs. It is lightweight, durable, and can handle any terrain with ease.
Conclusion
There are many factors to consider when it comes to MTB weight requirements. You need to consider the type of standard bike or e-bike, the terrain, bike brands, and your weight and size.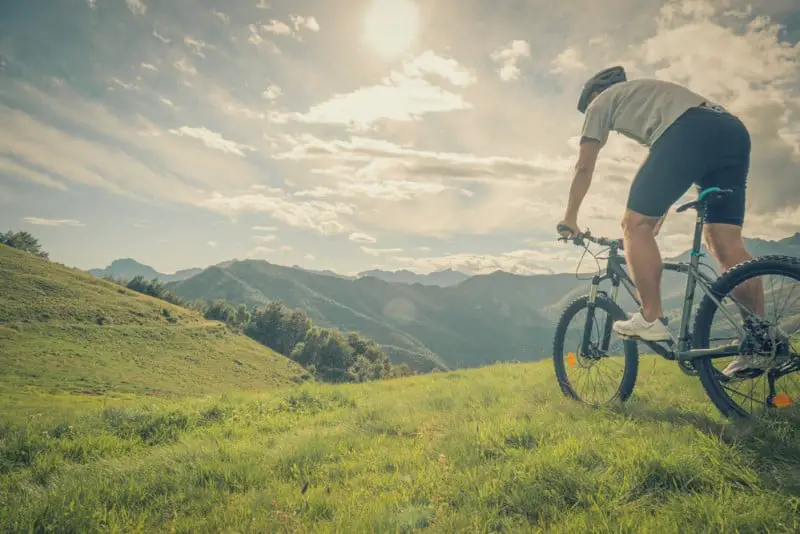 But don't worry. There are plenty of options for heavy bike riders. With a little bit of research, you're sure to find the perfect mountain bike for you.