Last Updated on November 21, 2022
Mountain biking is just like any other sport. It has its own pros and cons. Sometimes it's dangerous. But there are also times when there are no major risks involved. It's all a matter of riding style, discipline, and the environment.
Yes, you can crash with your bike or fall out of it. But you can avoid these instances if you know how to ride properly. You just need to have the right skills and equipment to avoid the risks.
Proper bike maintenance also plays a huge role in the sport's safety. So you must know how to fix it and ensure all bolts and parts function properly.
We're going to discuss why is mountain biking dangerous in this article. We'll also give you some tips to follow to avoid injuries and have more fun with your bike.
Is Mountain Biking Dangerous?
There's no single answer to this question because it depends on many factors. Yes, mountain biking can be dangerous if you ride very fast and don't have the right skills and equipment. But you can also lower the risks of accidents and injuries if you're a safe ride.
Mountain biking isn't that dangerous if you are a disciplined person. Also use a good bike with top-notch brands.
There might already be a lot of cyclists who got broken bones and other injuries from their rides. These are completely normal. But this doesn't need to happen in a brutal or very serious way. Expect to have light scratches or minor body pains after falling off your bike or hitting something.
Just don't go beyond your comfort zone and go very fast if you think you can't make it. It's sure nice to go a step further. But the risks involved aren't worth it.
Related: Is Road Biking Better Than Mountain?
Mountain Biking Safety Tips
Wear a helmet
Pictured above: the Giro Fixture MIPS Adult Dirt Cycling Helmet. Click on it for more details.
The first thing to do to be safe on your bike is to wear a helmet. Helmets are the most important equipment to wear if you ride your bike. This protects your head and prevents head injuries.
Mountain bikes are two-wheeled vehicles, right? And two wheeled-vehicles are more likely to fall down compared to four-wheeled vehicles. What's more is that your full body is exposed, unlike if you were to drive a car where you're just inside the vehicle.
You need to protect your head at all costs because that is the core of your body. A simple fall can lead to serious head, or worse, brain injury. This can even lead to amnesia or paralysis.
You surely don't want to experience these, right? Well, an easy way to prevent these horrible things is to wear a helmet. There are two main kinds of bike helmets. These are:
Half-shell helmets are for cross-country and light trails. Meanwhile, use full-face helmets if you ride enduro or downhill trails.
Related: What's the Best Mountain Bike Helmet for You?
Wear knee pads
Pictured above: G-Form Pro X2 Knee Pad(1 Pair). Click on the image for more information.
You need knee pads if you always ride gnarly and technical trails. These are very effective if you want to protect your knees against scratches or injuries.
Your knees are the first body part that contact the ground once you fall off your bike. So you need to protect it. This is also very important because scars on your knees take a long time to heal, especially if it's huge. It happens because your knees always move when you walk.
Prevent this and wear knee pads. Fox, RaceFace, and POC, are three of the top brands that make quality knee pads. We recommend you choose knee pads made from D30 material because they're lightweight and durable.
Wear gloves
Pictured above: Seibertron Dirtpaw Unisex. Click on the image to view more details.
Your hands and knees are the body parts that contact the ground if you fall off your bike. So you need to always wear gloves. This protect your hands against scratches. We recommend you get a glove that perfectly fits your hands.
It shouldn't be too big or too small. Fit is important because this lets you move your fingers easily. Gloves also give you better grip. This comes in handy if you have sweaty hands. Sweaty hands are very dangerous because your hands can slip off the bars and lead to accidents.
Fox and Troy Lee Designs are two of the top companies that make durable and cool-looking mountain bike gloves. Always wear full finger gloves if you ride enduro and downhill. You can then wear half-finger gloves for cross-country rides for a lighter and breezier feeling.
Related: Best Mountain Bike Gloves
Wear goggles or glasses
Strata 2 is one the most essential riding googles for mountain bikers. Click on the image for more information.
Protect your eyes with mountain bike-specific goggles or glasses. This is important because the trails are unpredictable. You don't know if there's a branch hanging somewhere or some insect that might hit your eyes.
We recommend goggles for downhill riders because they provide the greatest protection. But the downside of goggles is that they're heavier. You'll also feel warmer with goggles because air can flow through half of your face.
Meanwhile, you can use glasses if you ride enduro or cross-country trails. We recommend you choose glasses that have a clear lens so you can see the trail as is.
Tinted shades look nice. But these can limit your vision. POC and 100% are the top brands that manufacture mountain bike goggles and glasses.
Learn technical skills
You can lower the risks of mountain biking if you have the technical skills. This means that you know how to tackle very gnarly trails that have huge rocks and roots. This might sound easy.
But it takes a lot of guts, experience, and passion to traverse trail sections that seem impassable. Learn how to maneuver your bike and shift your weight to whichever position so you can be fast and safe.
Improve balancing
Balance is also important because this is the reason bikes run. Know how to control your bike and maintain pace even if the trail becomes rockier or more slippery. Balance is key to becoming faster.
Learn how to shift your weight to the back if you approach steep downhills. Also know when to shift to the left or right if you approach berms. Proper body posture is also key to safety. Don't slouch and always stretch out your elbows.
Look ahead
Never look on your tires if you ride your bike. Instead, look ahead and stare at the area where you want to go.
This is very important if you ride enduro or downhill trails because you ride fast. You also have little reaction time left, so you also need to look ahead. It might sound weird. But your bike goes to the exact area you look at.
Don't listen to music while riding
Never listen to music when you ride your bike. It might sound fun and enjoyable. But it's a huge distraction. You can't hear what's in front of you and you also can't listen to the surroundings.
You won't know if there's an animal ahead or if someone shouts and needs your help in the trail. Another risk is the chance that your headset will fall because you go through gnarly trails.
This is especially true if you have wireless headphones. Meanwhile, wired headphones or earphones can stick out on branches and twigs and lead to  accidents.
Check your bike's bolts before riding
Check your bike's bolts to avoid accidents. This is very common among beginners because they usually have loose bolts.
Mountain bikes experience immense stress and absorb huge amounts of vibrations. This leads to loose bolts. Make sure that you check your bolts before you ride. Get a torque wrench and make it a habit to inspect their tightness.
Park Tool is one of the best bike tool brands out there. We recommend you put the torque to around 5 Nm to 10 Nm depending on the manufacturer's recommendation. Put the bolts too tight and you risk cracks. On the other hand, your parts can slip if it's too loose.
Maintain the right tire pressure
Make it a habit to check the tire pressure before you ride. The recommended tire pressure for cross-country rides is 35 PSI at the front and 40 PSI at the back. Meanwhile, enduro rides have an ideal tire pressure of 20 to 25 PSI at the front and back, respectively.
Downhill rides are more at the extreme because they're best at 15 to 20 PSI at the front and back. But this still depends on your preferences.
Low PSI means that you get good grip but risk punctures. High PSI rolls faster at the expense of grip. You also are less likely to get punctures if you have high PSI.
Related: What PSI for Mountain Bike Tires?
Mountain Biking Hazards You Need to Know
Slippery pavement
Slippery pavement is one of the biggest hazards of mountain biking. Mountain bikes are best in the trails and not on pavement. They have knobby tires that have huge spikes and thick sidewalls.
This makes them awkward to use on the roads. This is especially true if it's raining and the asphalt on the road becomes very slippery.
But you can avoid this if you have low tire pressure. Low PSI means that the tires mold and take the shape of the ground to gain grip. You might run slower. But that's better than fast speeds but with higher risk of slipping.
Loose trails
Watch out for trails that have loose rocks and soil. Although they're fun to ride if you are already an expert. There's a good chance you'll slip and slide from it. The tires won't hold on the ground. You also can't brake properly if you ride on loose trails.
The ground will just scatter and flow like water along with your tires. The trails that have loose surfaces are usually those that have limestone and sand.
Trails like these are unpredictable because you won't know where your bike will go if you don't have enough experience. But you can conquer these kinds of trails if you know how to skid.
Steep descents
Steep descents are tricky because you have to shift your weight properly. You also need to have the bike with the right size. You can easily maneuver small bikes around corners and berms. But they're not very stable if you hit steep descents.
The technique here is to maintain a push-away position and shift your weight to the back. But don't overdo it, so you won't lose control of your handlebars.
Meanwhile, large bikes are more stable in steep descents because they have a longer wheelbase. It's best to push back and put most of your weight at the back. Just let the bike do its job and always control the cockpit.
Hitting jumps and drops
Many cyclists are afraid to hit jumps and drops, most especially the cross-country riders. But whether or not you like it, these obstacles will always be present in mountain biking. That's what mountain biking is all about! You enjoy nature as it is and conquer the unpredictable terrains.
Learn how to jump with your bike so you can have more fun. This also keeps you safe because you can easily control your bike if there are obstacles ahead. Just do a bunny hop and you don't have to squash those logs or huge rocks in front of you.
Drops are also helpful so you don't anymore have to roll through steep descents. Just drop together with your bike, get a few seconds of air time, and you're on the other end of the trail!
Steep uphills
Another thing to remember are steep uphills. These easily make you lose momentum especially if you go slow. What you need to do is to shift your weight to the front of your bike. Have your elbows stick out and regulate your breathing.
Steep uphills can easily make you lose momentum especially if you ride on loose gravel trails. Your rear tires are most likely to roll out of grip and you slip. You can avoid this, though, with low pressure tires that provide better grip.
Another effective tip is to always look ahead. Look at the direction or area where you want to go as you pedal. And just stare there. Your body works in mysterious ways because you go to the area where you look at.
Unmaintained bike
Maintain your bike's brilliance. It might sound cheesy, but that's how things work. Always have a clean bike and make sure you always lubricate the sides of each part. Always lubricate your chain so that it can easily shift to different gears on your cogs.
You are also less likely to have a cut chain if it's lubricated properly because the rollers aren't dry. You can also spray some silicon spray on the stanchions of your fork and rear shock.
This ensures that it's smooth and can slide down and go up fast. There are many silicon spray brands out there. But we recommend WD-40's silicone spray. It's affordable and effective to smoothen your stanchions.
Related: How to Maintain a Mountain Bike
Lack of skills
Mountain biking differs from other cycling disciplines. You need to have lots of skills to ensure safety when you ride the trails. The skills you need to learn are important because this gives you balance, control, and speed.
And all these things add up together and give you a safer ride. Learn how to traverse through technical sections that have large rocks, roots, and stones. You should also know how to hit berms so you don't skid too much and slip off your bike.
Don't be afraid to jump with your bike because this lets you avoid obstacles. Remember that air time makes you faster and safer. Know how to balance your weight and shift your body either forward, backward, or sideways.
This is crucial for corners and trails with tight turn sections. Brake in a modulated way and don't pull the levers too much. Adjust your brake levers and bring the left brake lever closer. This helps avoid over pulls. This is important, so you don't go over the bars and fall off your bike.
These are just some reasons many cyclists consider mountain biking dangerous. But it's not always like that as long as you know how to control your bike and have the needed skills.
Damaged trails
We do not recommend it to ride your bike on the trails if it's raining very hard. This is because you just damage the trails especially if it's a maintained bike park. The soil becomes very soft and slippery and your tires will just carve out huge ruts.
Yes, it's fun to soak from the rain on your bike. But you have to deal with huge consequences. Aside from the damage. You also increase the chances of slipping and falling off your bike. Mud can get very slippery and your tires can lose traction from the surface. 
Related: How to Make a Mountain Bike Trail in Your Backyard
Hikers
There's a good chance you'll pass by some hikers when you ride on the trails. This is very dangerous because you're very fast and you can hit them head on. What's worse is that they're going the opposite direction and towards you.
Watch out for hikers if you're on a trail shared with other fitness enthusiasts. But you don't have to worry too much about this if you are on a dedicated bike park. Just keep a close eye on your surroundings and look ahead at least 3 or 5 meters.
Braking
Modulate your brakes and don't overpull it. This is important for you not to go over the bars. Just pull it gently and slowly and learn how to go with the flow when you brake. Learn how to skid and control your bike as you slow down. This avoids slides and injuries.
Shimano is known for very strong brakes. Meanwhile, SRAM is popular for its modulation. Get a good feel of these brakes if you're still new to them.
There are other brake brands out there as well, such as Hope and Magura. These are in the middle of Shimano and SRAM in terms of brake style.
Crashing is normal
Prepare to crash if you are a mountain biker. Bike crashes are very common in mountain biking because you ride through unpredictable terrain. But you don't need to worry about this that much. Just always wear protective gear and equipment.
Always wear your helmet, goggles or glasses, gloves, and knee pads, if you ride enduro and downhill. These are very effective safety gears that prevent scars, wounds, and worse, broken bones. Don't be afraid and just conquer your fear.
Conclusion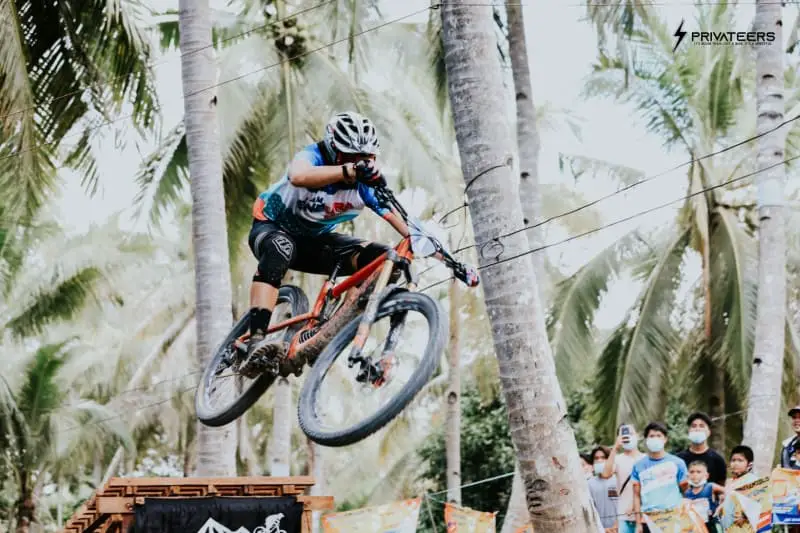 So, is mountain biking dangerous?
Yes, it can be. But it doesn't have to always be this way. There are many ways to avoid the risks. Wear protective gears and learn the right skills and techniques. Always maintain proper discipline as well.
Just enjoy the outdoors and have fun on the trails. Don't let the fear of injuries or crashes stop you from the fun that mountain biking brings.
Remember the tips and facts mentioned in this article, and you'll be good to go. Many cyclists might consider mountain biking dangerous. But they're just mostly roadies who are always on the road.
They need to have a good taste of mountain biking first before they say this next time.
Related: