Mountain bikes are meant for off-road trails. That's why they are called mountain bikes in the first place!
But we can't deny the fact that there are already many people using these bikes on roads.
Some say that it's safer to use a mountain bike on the road because it has a suspension system and can go through any kind of terrain.
However, there are also a handful of people saying otherwise. And that using these bikes on roads is harder and not anywhere near safer.
So, which is which?
That's what this article is about because we'll dive deep into whether mountain biking on roads is actually harder or not.
What to expect when riding a mountain bike on the road?
Less fun
The first thing you need to know is that riding a mountain bike on the road isn't as fun as riding in the trails. You simply just have to sit on your bike and pedal your way to your destination.
And you do that all while riding along with cars on highways and getting past them only a few inches apart.
You don't have to worry about traversing your mountain bike through technical trails and knowing where and when to turn around to hit berms. So, although it might seem safer and easier. There is no denying that it's downright boring, just like when you're riding a road bike.
Having a road bike is nice. But it's better if you'll use it as a means to improve your cardio. If you want to have fun, then a road bike isn't for you.
Running cars (lots of them) inches from you
Riding a mountain bike on the road means that you need to get along with cars pretty well.
That means you can expect to see cars go past you and only inches away from your elbows or handlebar. A slight miscalculation can throw you off your bike and lead to severe injuries, or worse, death.
Pollution
Riding a mountain bike on the road also means that you get to inhale dirt, dust, and smoke. Urban pollution is all around you with road riding. And you are surely going to breathe all of that in on your ride especially if you're climbing your mountain bike on steep uphills downtown.
Road bike cyclists can attest to this because they spend countless hours on asphalt road meddling with cars on their road bikes.
This is one of the reasons why it's harder to go mountain biking on the road. Because instead of feeling more relaxed and relieved from nature. You put yourself in the middle of urbanization instead of the fresh mountain bike trails. And you just end up getting all the accumulated dirt and dust from cars on the road.
Cops
Remember that there are some places where biking on roads is prohibited. Examples, where bike road riding is prohibited, are on large national highways and expressways. Make sure that you aren't in these areas so you can avoid some beef with the authorities.
Benefits of Riding a Mountain Bike on the Road
Safety
One of the best things about riding a mountain bike on the road is safety. You don't have to worry about falling off cliffs, hitting huge rocks and crashing on them, or maybe slipping through mud and breaking a bone or two.
None of these dangers are on the road. Unless, of course, if you get hit by a car, hit a post, or fall off your bike for some reason, which is all common for a mountain biker who goes road riding or rides a road bike often. Because of this, many say that riding a mountain bike on the road is safer.
Learn basic skills
Another nice thing about biking on the roads is that you can learn basic mountain bike riding skills. Examples of these are wheelies, jumps, drops, skids, and endos.
Mountain bike tires, unlike the thinner road bike tires, are also thicker and grippier thanks to their knobby tires ideal for trail riding. This allows the rider to experiment with new balancing tricks without falling off their bike.
You can do these on your mountain bike because you are in a controlled environment. And there are fewer things that put you in danger. Biking on roads is a great starting point for anyone.
Regular exercise
You don't have to go to the mountains to ride your bike. This saves you a lot of time and energy. You also get a lot of motivation from this because you just have to step out of your house, ride your bike, and you're good to go!
This allows mountain bike riders to exercise regularly with their mountain bike so they don't end up having to skip a day or two to lose some weight and to get fit.
Not only does it let you exercise, but you can also maintain a fit and healthy lifestyle all while enjoying the great outdoors. However, it'll be better for road bikes. Road bikes are made specifically for roads because they are lighter, don't have any suspension, and go faster on longer distances.
Affordable mode of transportation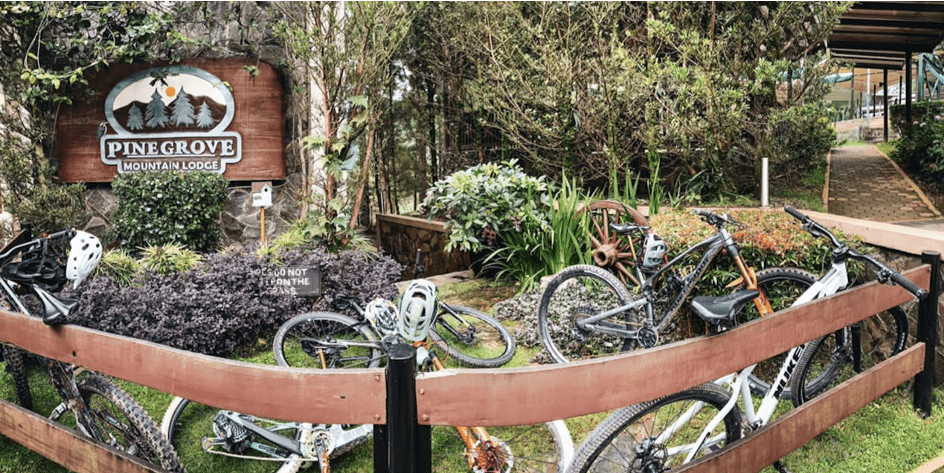 Another nice thing about riding mountain bikes on the road is that it is an affordable mode of transportation. You can use this to go from one place to another.
It might be going for some errands, or shopping a few items from the nearby grocery store in town. You don't have to spend money on gas or commutes because you just bike your way through it.
This is one of the biggest benefits you can get from your mountain bike if you are budget conscious or if you don't have the cash to spend on commuting daily, either you going to work, school, or other matters.
Related: Is Road Biking Better Than Mountain?
Is it harder to bike on the road?
No, it's not harder to go mountain biking on the road. In fact, it's easier. There are fewer obstacles and there is a lower chance you'll fall off your bike because the terrain is flat, smooth, and controlled.
Aside of course, from the steady stream of cars running at around 100 KPH or more, inches from you.
Consider that and you'll see that the risk is higher. But aside from that, you can clearly see that it's easier to ride a mountain bike on the road. Unfortunately, that easiness comes at a price. And that you will have less fun. Trust us, road biking is downright boring! Mountain bikes on trails are the real deal.
Related: Do Mountain Bike Tires Wear Faster on the Road?
Conclusion
It is not harder to ride mountain bikes on the road. In fact, it's easier because the surface you're riding on is flat, solid, and doesn't have many features. But then again, it has its own pros and cons.
Also, ask yourself if you are willing to compromise fun and excitement just for the sake of difficulty.
Try riding on rough trails and you can easily give the answer to that.