Last Updated on July 29, 2023
Having a new paint job on your mountain bike is one of the best ways to improve its aesthetics and tune it based on your preferences. It's not all about the design and color but also about customizing it to reflect your personality and riding style.
There are several ways to get custom paint jobs for bicycles, each with its pricing. The price will also depend on the parts and the type of bike you're using.
Here, we will talk about the cost that it would take to get paint on your bike.
Cost of a Paint Job for a Mountain Bike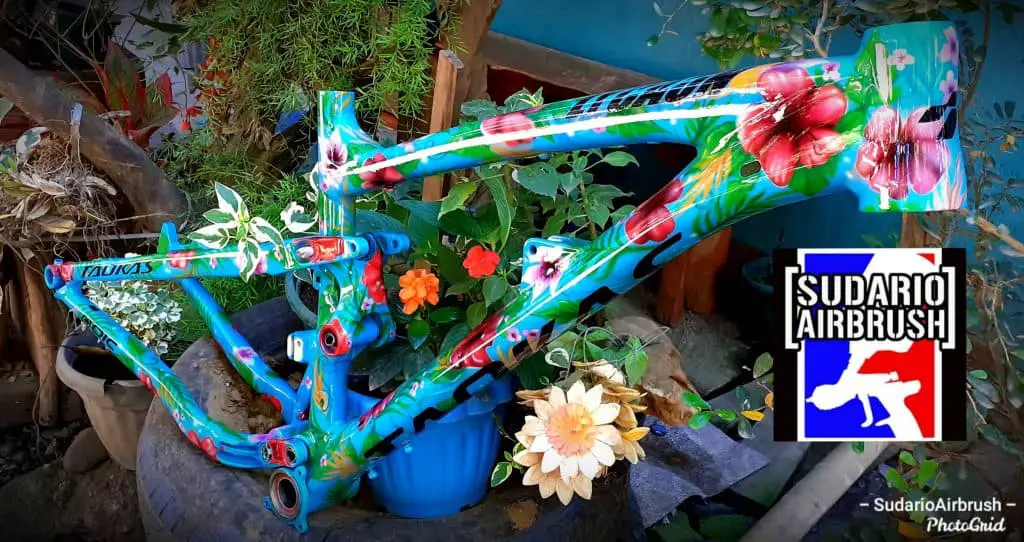 The average price that you can set to get your bike an expert paint job will usually be around $300 to 500 dollars.
Options and Cost for Doing a Custom Paint Job
DIY
You can do it all by yourself and need to buy a primer and topcoat. It'll only cost you about $50 to 80 dollars, although the quality of the job will only depend on how good you are as a painter.
Bike Brand Options
Several bike brands like Trek, Orange, and Orbea offer several custom paint options for you to choose from. Choose your bike's preferred paint right after buying it for a few extra dollars.
Specialized Custom Painters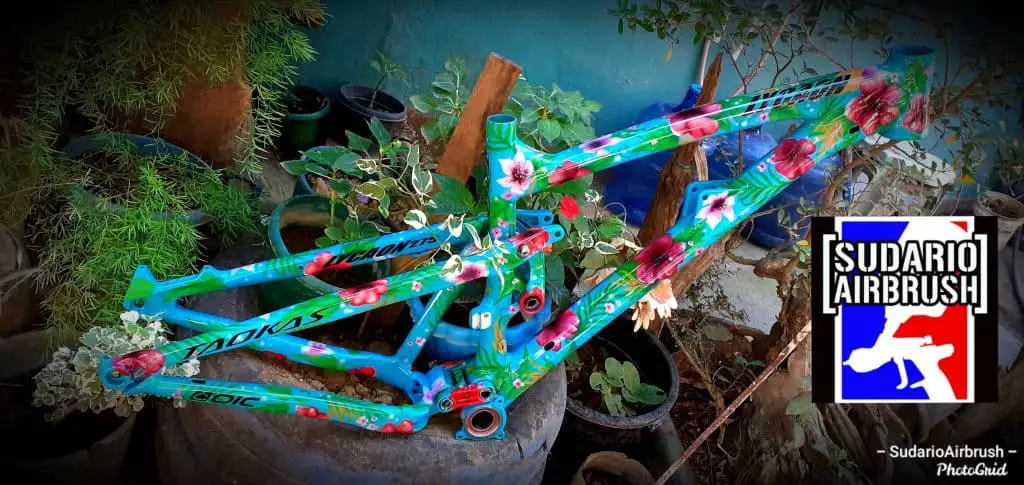 Specialized custom painters are skilled and artistic in designing and painting your custom bike. Several painters include Fatcreations, Kustom Flow, and Ooey Custom Paint.
They usually have rates around $250 to 550 dollars and will go more depending on the parts you want to be painted and for the custom decals.
The Best Type of Paint for a Paint Job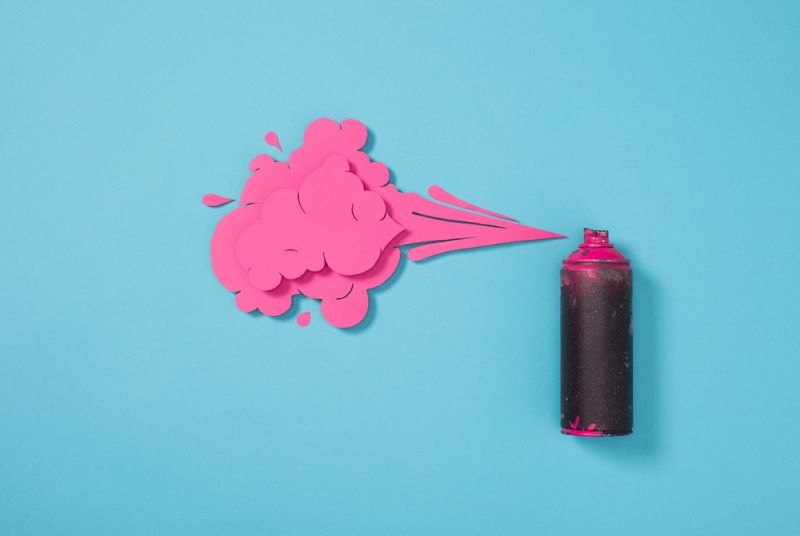 People who paint their bikes by themselves usually use spray paint, which is very cheap and can sometimes give excellent results.
But to get paint that makes your bike look brand-new, use a powder coat.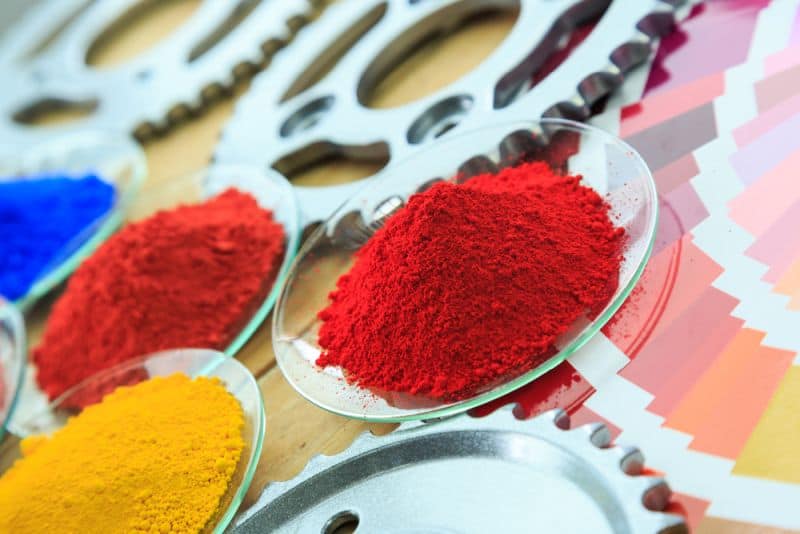 Powder coating involves spraying a bike frame to achieve a design job from the factory. Every custom painter uses this paint to get the best output, each having their specific method to make the paint look better.
Paint Job on Carbon vs. Aluminum
Painters usually ask more to do custom paint on a carbon bike frame than on an aluminum one.
They'll still use powder coating on it. But the stripping, painting, and drying process is much more difficult as there are chances that the carbon can delaminate and weaken.
Top 3 Custom Bike Painters
Fatcreations
Fatcreations can give you the best results when painting your bike. The owner is a former pro downhill racer, and pro mountain bikers have already gone to him to get paint on their bikes.
Kustomflow
If you're looking for an excellent design job for your bike, bike shoes, and helmet, Kustomflow can give you this service. They offer an exceptional quality output that can exceed your expectations with a negotiable price that's fit for their work.
Ooey Custom Paint
Ooey Custom Paint offers services to not only mountain bikes but also road bikes. Their paint job can hit through the tube of the frame's finish, making them look like a brand-new sports car.
They offer a fair price for their work, although it can be expensive for some people.
Preserving your bike's paint job
After the custom MTB paint job, you must do everything to maintain its quality. However, your bike's paint job is prone to damage from harmful elements like rain, water, UV rays, and dirt. These cause your bike's paint job to fade and peel.
To keep your custom paint job in tip-top shape, do the following:
Wash your bike regularly with soap and water. Use a soft-bristled brush to remove dirt and grime. Then dry your bike thoroughly after washing.
Store your bike indoors when not in use.
Apply a protective coating to your bike's paint job and metal components.
Use a rust remover to get rid of any existing rust.
Use a bike cover to protect your bike from rain and sun.
Related:
Frequently Asked Questions
Are there any bike shops near me that offer custom paint jobs for mountain bikes?
Do a quick online search or check with your local bike community. Some popular bike shops that offer custom paint jobs include Propain, Orange, and Back Biker.
Is it possible to repaint a mountain bike frame without damaging it?
Yes. However, you must ensure that the frame is correctly prepared before painting. This includes sanding, cleaning, and priming the edge to ensure the paint adheres properly.
Does repainting a mountain bike frame decrease its value?
Repainting a mountain bike frame can decrease its value, especially if the original paint job was a rare or desirable color scheme. However, a professional repaint job using high-quality materials may not significantly impact the bike's value.
What's the cost to paint carbon frame?
The estimated prices for carbon bicycle frames painted range from $200 to $2000 for full frames and $200 to $350 for forks.
How much does it cost to get a bike frame professionally painted?
A basic steel bike frame paint job costs between $200 and $300. Customization, specialty paint, powder coating bike frames, or extensive repairs can increase the price to $500 or more.
Conclusion
Getting the best painter whenever you want a custom paint job is always an excellent idea. Although expensive, they can bring your dream bike to life.
Images used in this post are courtesy of Sudario Customized Airbrush.