Mountain biking is one of the best sports that anyone should try. Not only does this let you explore the great outdoors, but this also improves your physical and mental health,
These are just some of the reasons why mountain biking is such a fun and healthy sport. But there's more to these than just those.
Here, we're going to give you a better understanding of what mountain biking really is, along with its other benefits, different kinds of bikes, and what you can expect from this sport.
Benefits of Mountain Biking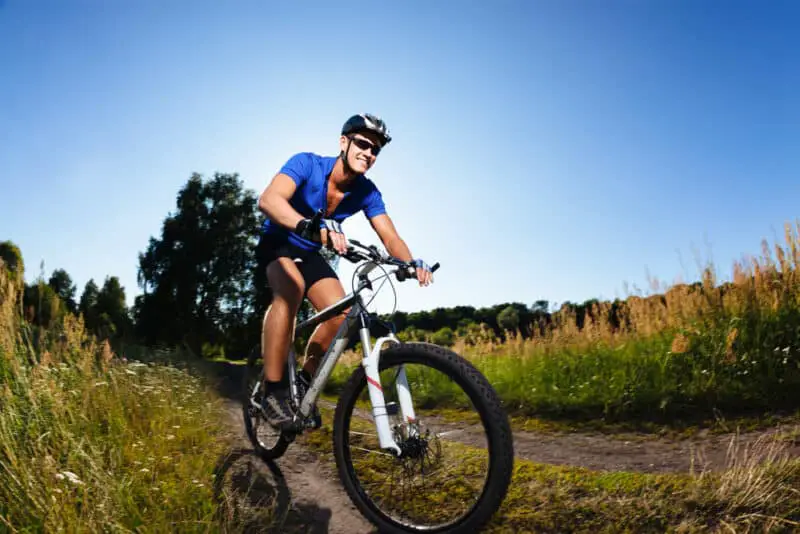 Improve cardio
One of the biggest benefits you can get from mountain biking is that you get to improve your cardiovascular health, or simply speaking, your heart.
This is a great form of cardio workout because this doesn't put too much pressure on your body, especially since you're sitting down on your bike's saddle.
But despite that, you still get the same cardio benefits as compared to if you were going to go running or maybe mountain climbing. Biking increases your oxygen intake while also improving your blood vessels. It does this by dilating them and clearing up their pathways.
Increase stamina
Another reason why you should go mountain biking is that it helps improve your stamina and endurance. Expect to pedal through steep uphills and miles of straight and seemingly unending long-distance rides.
These are more than enough to improve your stamina and make you tougher and more capable of tolerating extreme conditions, whether it be scorching hot, freezing cold, or soaked up and wet.
Strengthen muscles and joints
One nice thing that sets mountain biking apart from other sports is that it doesn't beat up your bones and joints too much. Your joints and bones maintain smoother movement when you're biking compared to if you are running.
For example, basketball puts immense pressure on your leg joints because you run and jump as hard as you can. Not to mention the sudden change of movements to keep up with the pace.
However, mountain biking creates a smooth and rhythmic movement for your joints. This decreases the chances of joint soreness, or worse, injuries.
Lose weight
Mountain biking is a great way to burn calories. In fact, mountain bikers can lose an average of around 1,000 calories for every hour that they ride their bikes.
Aside from that, this can also increase your metabolic rate. If you want to stay fit and healthy, then mountain biking is the way to go.
Improve mental health
Mountain biking won't just improve your physical health, but it also strengthens your mental health.
Nothing beats the feeling of being out in the outdoors as you sweep past scenic trails in the heart of Mother Nature. This also releases dopamine, a happy hormone, that gives you the feeling of happiness and satisfaction. This can also lower stress levels.
Meet new friends
You get to meet new friends when you're riding bikes. Unlike other sports, the mountain biking community is very friendly and accommodating.
Although it is competitive in one way or another, the people are used to making new friends and helping them progress through the sport. There is a special bond and form of camaraderie that naturally exists within the community.
Aside from that, the people who are into this sport are also usually professionals and successful people. So, you also get to build strong and healthy networks where you can learn new things about business, work, and new opportunities to make money and live a healthier life.
Explore the outdoors
Being able to go out into the open and ride seemingly impassable trails with nothing else but just yourself and your bike is one of the best feelings you can get. If you want to explore the outdoors and see nature in its rawest form, then mountain biking is definitely for you.
Related:
Types of Mountain Bike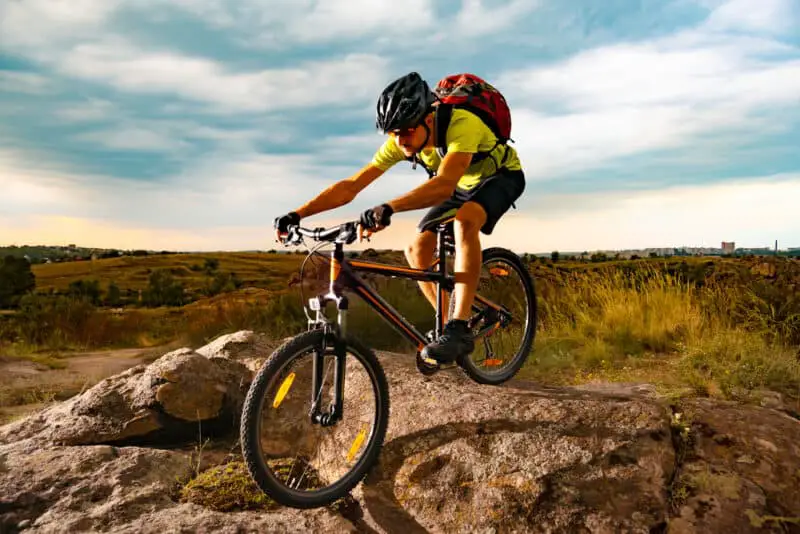 Cross-country bikes
Cross-country bikes are made to traverse long distances which span around 30 miles to more than a hundred miles.
These are the lightest kind of mountain bikes because they should make it easy for the rider to ride the bike for hours on end without stopping.
Cross-country bikes are designed to easily go uphills, which is why their frames are usually made from carbon fiber. They also have thinner tires to reduce ground contact and be faster out on the trails.
Trail bikes
A trail bike is usually used for leisure and not for racing. They are designed to easily traverse light trails that are most ideal for beginners.
However, more premium trail bikes today are becoming more oriented toward the more extreme enduro and downhill disciplines which is why they're more robust.
The trail bike suspension travel is around 130 mm to 150 mm, while their tires have a semi-aggressive tread pattern to give enough traction and speed.
Enduro bikes
Enduro bikes are like the beefed-up version of a trail bike that is designed for racing. They are like downhill bikes because they can easily shred downhill trails and do jumps and drops.
However, their single crown forks and suspension travel of around 150 mm to 180 mm allow them to also climb uphills. These are all-mountain bikes that are very versatile and fully capable of bringing you wherever you like to go.
Downhill bikes
Downhill bikes are the most extreme kind of mountain biking and are also the heaviest type because they are meant to go through gnarly downhill trails.
This includes jumping through river gaps, dropping on huge cliffs, and riding past rough rock gardens with ease. All these are made possible thanks to its dual crown fork which is supported by a 200 mm travel suspension, much higher than a trail bike and enduro bike.
However, these are very hard to ride uphills because of their aggressive geometry. Nonetheless, riding downhills on these mountain bikes is a breeze. They also have hyper-aggressive tires that have huge knobs for maximum grip and traction.
What to Look for in a Mountain Bike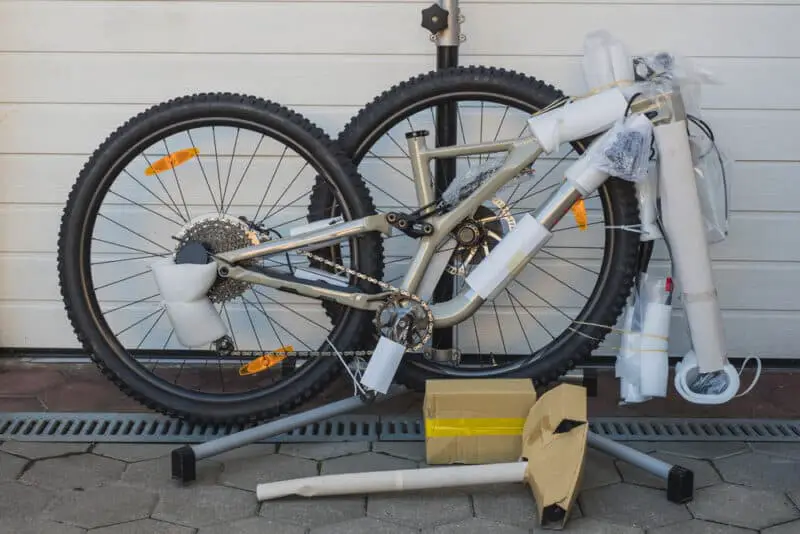 Frame
The frame is the first thing that you want to look for in a mountain bike. This is the core and base structure of your bike so you need to be really meticulous with it. There are three main types of frames.
These are steel, aluminum alloy, and carbon. Steel MTB frames are slowly becoming obsolete because they're too heavy. Meanwhile, aluminum alloy frames are the most popular because they're light, durable, and also affordable.
Almost all mountain bikes today have their base models in aluminum alloy frames. On the other end of the spectrum are the carbon mountain bikes made from premium carbon fiber materials.
These are reserved for high-end and top-caliber race-ready mountain bikes. They're very light and very durable but are way more expensive than the alloy variants.
Wheel size
Wheel size is the diameter of the wheels. This is very important because this is where maneuverability, capability, and speed depend on.
There are three main wheel sizes. These are 26-inch, 27.5-inch, and 29-inch. 26ers are usually found in slopestyle dirt jump and children's mountain bikes. Before, these were the standard of most MTBs.
However, these were replaced by the bigger 27.5-inch wheels which are the most popular type today.
29ers were also once just used for cross country mountain bikes, but more premium bikes are already using them because of their larger diameter, faster top speeds, and better capability in handling technical sections.
Components
The components involve the drivetrain, brake set, cockpit, saddle, dropper post, pedals, and wheelset. You need to make sure that all of the components are made by reputable brands such as Shimano, SRAM, and Magura, to name a few.
You might think that buying cheap and affordable components are alright. Well, doing that only puts you at risk of injury because cheap components are substandard and ,can break at any time especially if you ride them out on the trails.
Brand
The brand of the components is also an important thing to consider because this is where you can see if it is made of quality materials or not. 
You might think that bike brands are just a marketing gimmick. Well, not really.
Because this is where their reputation depends. Go for top brands such as Nukeproof, Santa Cruz, and Specialized if you really want to ensure optimal performance, safety, and reliability on and off the trails.
Price
Mountain biking is an expensive sport. You will have difficulty enjoying it in the best way possible if you don't have the right budget.
So, expect to spend a lot if you want to make the most out of the sport.
We recommend that you focus on spending more on the frame, drivetrain, and wheelset of your bike because this is where most of your safety depends.
Best Mountain Bikes to Choose From
Diamondback Catch: Best Enduro Bike
Diamondback Catch 2 Mountain Bike
130mm Level Link rear suspension

27.5+ Blanchard tubeless-ready wheels with forgiving 2.8" tires

Extra stiffness added by Boost 148 rear thru-axle and Boost 110 thru-axle fork

Shimano SLX 1x12 drivetrain with Shimano SLX cranks

Shimano SLX hydraulic disc brakes (180mm rotors)

130mm Level Link rear suspension

27.5+ Blanchard tubeless-ready wheels with forgiving 2.8" tires

Extra stiffness added by Boost 148 rear thru-axle and Boost 110 thru-axle fork

Shimano SLX 1x12 drivetrain with Shimano SLX cranks

Shimano SLX hydraulic disc brakes (180mm rotors)

130mm Level Link rear suspension

27.5+ Blanchard tubeless-ready wheels with forgiving 2.8" tires

Extra stiffness added by Boost 148 rear thru-axle and Boost 110 thru-axle fork

Shimano SLX 1x12 drivetrain with Shimano SLX cranks

Shimano SLX hydraulic disc brakes (180mm roto
Prices pulled from the Amazon Product Advertising API on:
Product prices and availability are accurate as of the date/time indicated and are subject to change. Any price and availability information displayed on [relevant Amazon Site(s), as applicable] at the time of purchase will apply to the purchase of this product.
The Diamondback Catch is one of the best enduro mountain bikes out in the market today. Despite being a great choice, it won't break your bank because it's priced just right.
With 130 mm of rear suspension, 27.5-inch Blanchard tubeless tires, and a Shimano SLX 12-speed drivetrain, this is a great buy.
This also has 180 mm SLX hydraulic brakes, making this a go-to bike if you're into enduro and trail riding. This can shred downhill fast while also having the capacity to climb uphills.
Mongoose Status: Best Budget Mountain Bike
The Mongoose Status is another great buy if you're looking for a budget mountain bike to let you enjoy the outdoors, just like the other premium variants.
It comes with an aluminum alloy frame that's designed for 26-inch wheels.
This makes it a nice diet jump buy or a children's bike, apart from it being a proper leisure bike. This also has v-brakes on its front and rear, so you'll fare well with it on light trails.
Schwinn High Timber: Best Cross Country Mountain Bike
The Schwinn High Timber is the best cross-country bike in the market today.
This makes it a great choice if you're into long-distance rides or steep uphill climbs, thanks to its lightweight alloy frame, aluminum alloy cranks, and twist shifters.
It also features all-terrain tires with knobby treads to provide enough grip and rollover capability. Moreover, this also has a quick-release seat post for better convenience and comfort.
Mongoose Malus: Best Mountain Bike for Casual Rides
You might also like the Mongoose Malus, a 26-inch mountain bike that's made for riders who are on a tight budget.
But don't take this lightly because even if it's a budget bike, this one is still packed with features that make it capable of going off roads.
It comes with a 7-speed twist shifter that gives a fast and precise gear change.
This also has 4-inch fat tires making this one of the coolest-looking mountain bikes. If you're in for the unique aesthetics, this one's for you.
Mountain Biking: Best Practices
Shuttling
Shuttling is a part of mountain biking, especially for gravity-oriented disciplines like enduro and downhill. This is totally fine. But you shouldn't depend too much on this.
Simply riding a truck or car to take you to the top-most start of the trail will make you less fit. And you wouldn't gain the needed cardio strength to improve your stamina downhill. You can try to ditch the shuttle every once in a while and just try to climb uphills on your own.
It's not about the price
Mountain biking is expensive because you need to get the best parts to ensure safety and optimal performance.
But this isn't always the case because more mountain bikers are now using bike brands as status symbols or as bragging rights.
Little do they know, becoming a better mountain biker isn't about how expensive your mountain bikes are. It's more about your skills and attitude towards the sport and other fellow bikers.
Races
Racing is a way for us to bring out our competitive selves. However, don't use this as a means to stress yourself out by training too hard and forgetting what life is about. That's where the next piece of advice comes in.
Just enjoy
Instead of being too hooked up in the sport that you buy all the cool and top-name brands and the latest gears and components, why not just look at the other side of the sport and assess why you got into mountain biking in the first place.
Doing this will most likely bring you to the realization that it's really all about the fun and enjoyment while experiencing the adventurous kind of lifestyle and being healthy and fit.
These are the reasons why you ride your bike. Just enjoy, stay healthy, and you'll surely have an even better time riding your mountain bike.
---