Last Updated on November 8, 2022
The chain is one of the essential parts of a mountain bike. The bike can't move without it. The saying that a bike's chain is the only chain that sets you free is true! This is why you need to take good care of it.
One way of doing that is by using the best mountain bike chain lube.
It lubricates your chain so it can smoothly move between your cogs. This lessens its wear and tear because of minimal friction. It also helps extend your drivetrain's lifespan because the chain is lubricated well.
In this article, we're going to show you the best MTB lube. We'll also show their differences, featured highlights, where to buy bike lube, and pros and cons to help you get the right one for your riding needs.
1. WD-40 Bike Dry Lube
WD-40 is known as one of the best brands for vehicle maintenance. And their WD-40 Bike Dry Lubricant fits that bill perfectly. It is one of the best bicycle chain lube choices out there.
This is what you need if you're always riding on dry trails. Its compound is specifically designed to attract less dirt and grime. It's also ideal for dusty conditions because its lube has a dust-wicking feature.
This formula also has polymers, creating a dry film that protects your chain. It's effective in repelling dust and dirt. This even prevents friction and extends your mountain bike's chain life. It's a no-wax formula that prevents gunk buildup on your chain links and drivetrain.
---
2. Muc Off Dry Lube
Muc-Off is another household name in motorcycle and bike maintenance. Introducing the Muc-Off Dry Lube specifically designed to improve your mountain bike chain performance.
This is one of the best dry lubes and wax based lubes that can also be partnered with a decent wet lube in the market today.
It features an ultra-durable compound that keeps this lubricant biodegradable, making this one of the best bike lubes on the market. This means it's not made of strong chemicals that can damage your drivetrain. It's also environment-friendly.
It's also known to be very good at penetrating deep into your chain, which is why it's one of the market's best bike lube choices. This makes it ideal if you don't want to regularly lubricate your chain because of its wet chain lube features. They stay there for a long time! Another agreeable thing about Mucoff is it helps reduce shifting friction.
This helps you conserve energy every time you pedal because of the smooth rhythmic process common in most wax based lubes and wax lube brands.
Another highlight feature of this lube has is its wax-based formula, making this undoubtedly one of the best bike chain choices in the market. It gives long-lasting protection against contaminants like oil and grime.
---
3. Finish Line Dry Teflon
You might also like Finish Line's Dry Teflon lube. Finish Line might not be that well-known compared to WD-40 and Muc-Off.
But that's because they prioritize quality over marketing, making them one of the best bike chain brands. They also have a proven track record of making maintenance gears for bikes.
This is your best bet if you're looking for a wax-based chain lubricant. It's made thanks to its synthetic film compound that keeps your chain clean wherever you ride.
It doesn't absorb much grime, grit, and dust compared to most wax lubes, and cheaper bike lubes. This also has a Teflon fluoropolymer that lessens pedaling frictions and removes moisture. You can even use this lube for long rides, which lasts up to over 100 miles.
And even if this is specifically made for dry conditions. You can still have this on wet and muddy trails.
It's very versatile, making this a great bang for your buck even though this is one of the most affordable chain and wax lubes on the market. You don't anymore have to change lubes depending on the trail!
The other nice thing about this chain lube is it reduces roller wear and penetrates inner chain bushings. It can even coat the derailleur and brake pivots.
---
4. Rock N Roll Extreme Lube
The Rock N Roll Extreme Lube is another top mountain bike lube and is undoubtedly one of the best bike chain brands on this review roundup.
This is ideal for wet and muddy rides because of its viscous formula. That's why it's called extreme! It features a gel membrane that is suspended in its sticky fluid.
This lets it penetrate the inner membranes and pivots. This wet lube keeps the chain joints smooth while also making shifting crisp. It doesn't just lube your chain but also cleans it simultaneously.
Open its top cover and slowly drip the chain lube onto your chain, cog, or chainring. Then wipe off the excess oil, and you're ready!
You also don't have to worry if it attracts dirt and grime. Because it won't. They make this thanks to its balanced formula compound that ensures your chain stays clean. Ensure you don't always re-lube it until the chain is already dry.
---
5. Boeshield T-9
The Boeshield T-9 is the best lube if you are looking for versatility. This is the most versatile choice for wet and dry conditions.
This means it can function as a wet or dry lube. This is your best bet if you want a chain lube that can be used on different trails.
One of the best things about this chain lube is it lubricates and cleans your chain at the same time. It can even waterproof your cables. This is one of the best bike lube on this list because it also prevents rusting because of its long-lasting all-in-one compound.
This loosens corroded parts and is safe on any metal, vinyl, or plastic surface. It even automatically flushes out dirt and oil lubricant stuck on your chain. It does all this while improving penetration into your chain's inner rollers with the help of its wet lube features.
Note that this wet lube is developed by Boeing for protecting aircraft components, making this one of the best bike lubes available in the market today. So, you're sure to get the best quality with this chain lube, whether it be on your bike, motorcycle, or car.
---
6. Park Tool CL-1 Synthetic Blend Lube
Then there's the globally renowned Park Tool. You might have heard about this brand for its bike stands and tools. But they also excel at another thing.
Meet the Park Tool CL-1 Synthetic Oil Blend, one of the best bike chain brands on this list.
This is specially formulated with PTFE and a blend of premium proprietary oils. This works well in dry and wet conditions, making this lube very versatile, knowing that it can either be a wet lube or a dry lube.
You don't even have to use them on your chain or cogs. Because these chain lubes can also be used on spoke nipples, cables, brake pivots, and derailleurs. This keeps them working smoothly.
This also does a good job in chain roller penetration and extends drivetrain life, making this one of the best bike lube choices you can choose from.
It displaces moisture well and protects your bike parts from corrosion and rusting. This chain lube is compatible with all mountain bike chains used previously with other lubes.
---
7. WD-40 Multi-Use
Here is another top mountain bike chain lube from WD-40, the WD-40 Multi-Use. This lube is what you need if you want to remove moisture fast. What's nice about this is it's not just for bike chains but for different uses.
Examples are electrical systems and circuits that need to be dried out. But this works well as your bike lube because of its corrosion inhibitor feature.
This prevents rusting and lengthens the chain's lifespan. It also does a magnificent job of freeing sticky mechanisms while preventing metal parts from rusting, similar to most branded wet lubes, wax chain lube, dry lube, and ceramic lubes, and how a wet lube should function.
You also don't have to worry about its formula because it's not very strong compared to other wet lubes and wax-based lube, thanks to its ceramic lube properties. This is a critical consideration if you are looking for the best bike lube or dry lubes in the market.
This chain lube won't damage your chain's rollers and hinges. Another agreeable thing about this lube is the attached Smart Straw that sprays in 2 ways. This is available in 8 oz, 11 oz, and 12 oz canisters.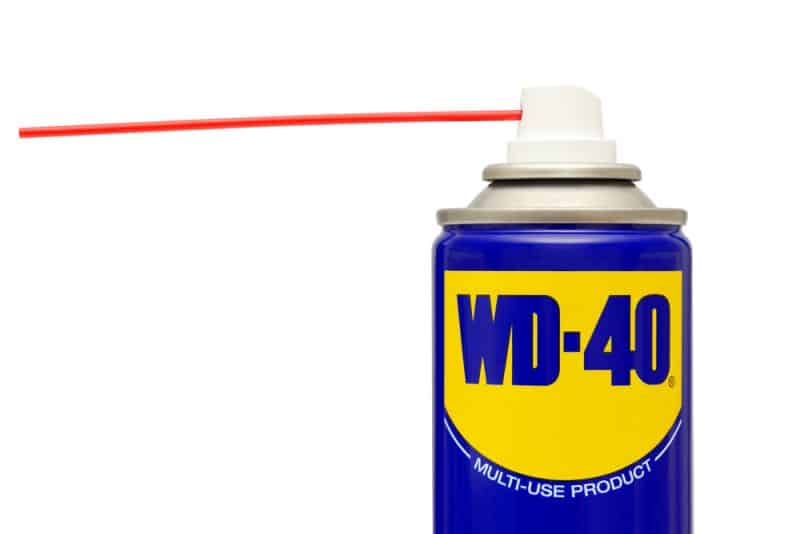 ---
8. Rock N Roll Absolute Dry
Then there is the Rock N Roll Absolute Dry chain lube. This is your best choice if you always ride on dry trails and in weather conditions. This very dry formula compound prevents your chain from attracting dirt and dust.
It's also very light, so you don't have to worry about getting gunk on your chain or jockey wheels. You can even use this for road bike chains, which makes this lube very versatile. It's made in the US and has a package dimension of 6 inches by 3 inches.
---
Conclusion
It is necessary to get the best bike chain lube because it affects your riding experience. This also extends your chain's life along with your drivetrain.
Make sure you get the right chain lubes for your riding style and preference. Choose dry chain lubes if you ride on dusty trails. But get the wet lubes if you ride on muddy trails.
Also, choose the brand wisely because this lets you know if it's effective or not. Choose any of the best mountain bike lube mentioned above. And you'll surely have a great mountain biking ride.
Related: